Kentish Folk Clubs
Dartford Folk Club: Dartford Working Men's Club, Essex Road, Dartford, Kent. DA1 2AU
Every Tuesday 8.30 - 11.00
Floor Singers Welcome (advisable To Ring For A Spot)
The venue where the folk club is held (DWMC) has won the prestigious Campaign for Real Ale Kent Club of the Year Award 2002!
Website: www.dartfordfolk.org.uk:
Telephone: +44 (0) 1322 222553 E-mail: PaulHomer@DartfordFolk.org.uk


Friday Folk Club, Deal: Royal Marines Association (RMA Club), Deal (opposite the bandstand on Walmer Green). - meet every Friday in the upstairs room from 8.15 - 11pm.
For information ring Avril on 01-843-864208 or email Sue on Sueawatson@aol.com
Folk At The Drum: Held in The Drum, North Stanford just off Stone Street which is just North of the Hythe Exit from the M20. - meets every Thursday from 8.00 - 11pm.
Includes the old White Hart Folk from Hythe.
This will be run by Peter Thompson, 01303 275 279
Faversham Folk Club : The Chimney Boy, Preston St., Faversham. - regular every wednesday @ 8.00 for 8.30 pm.
Info: Alan Cole 01795 531 649,
Info & Bookings: Andy Pigg 01843 866 754 e-mail:favershamfc@pigglet.co.uk

Fordwich Folk Club used to meet in the bar at the Fordwich Arms, King Street, Fordwich, Nr. Canterbury, on the first and third Sundays of each month (except August), at about 8.30pm, but at the moment the club is not meeting. e-mail: ivansue@supanet.com

Fordwich Country and Blues : Fordwich C&B Club meet in the bar at the Fordwich Arms, King Street, Fordwich, Nr. Canterbury, on the second and fourth and fifth Sundays of each month, at about 8.30pm. Come and play, come and listen ...
An acoustic club, most meetings being singers nights/come all ye's/open stage.
MuzikMan : Not a club, but Mike is virtually a one man music industry - this is his gig list - so keep it up Mike.
The Old House at Home :
Pudding Lane, Maidstone. ME14 1LN
"Great music, great atmosphere and all welcome."
Enquiries:- 01634 244 213

Orpington Folk Club :
the 'Change of Horses', Farnborough High Street, Orpington, Kent.
Orpington Folk Music and Song Club exists to promote folk music and song.
Venue Tel: 01689 852949.
E-mail: orpingtonfolkclub@hotmail.com, steveyjennings@hotmail.com, inorth@hotmail.com
Website: www.orpingtonfolkclub.fsnet.co.uk
Organisers Tel: Ted Handley : 020 8325 6513, Steve Jennings : 01959 532 754, Ivan North : 01689 870 197, Brian Bruce : 0020 8856 5711.

Shipwrights' Arms Folk :
Welcomes you to another summer season of 'Open Stage' afternoons for folk/Blues musicians and singers supported by Folk Band WATERSHED.
Hollow Shore, Ham Road, Faversham. Enquiries:-Derek (at the pub) 01795 590088 or Mike (Watershed Band) 01795 536635
Sussex Folk Club :
ROYAL OAK,Station Street, Lewes. Enquiries:- (01273) 478124 or 881416
Email : tinvic@globalnet.co.uk

White Hart Folk
White Hart Folk Club - Has now been subsumed into "Folk at The Drum" - see above.
---
A new Kent Folk Google Calendar with some of the Folk Clubs and Sessions - no these have been split into two separate calendars now, so this one is a little bare at the moment - more to come soon.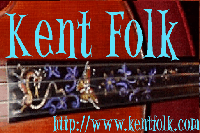 www.kentfolk.com