From: info_at_themagpiesnest_dot_co_dot_uk on behalf of The Magpie's Nest [info_at_themagpiesnest_dot_co_dot_uk]
Sent: 28 October 2008 10:32
Subject: Tues_at_Roundhouse, Weds - Steve Tilston & Celtic Month Launch

WWW.THEMAGPIESNEST.CO.UK
THE OLD QUEEN'S HEAD
44 ESSEX ROAD, ANGEL
Dear Friends.
Welcome to the Magpie's Nest news of upcoming dates and information, please see below the listings of future events, including our very own night of indulgence at the Roundhouse which however grand shall in no way cast shadows on an amazing October finale with... not only Steve Tilston, guitar and songwriting master, and not only our very own Lauren McCormick and her fabulous trio but we will also be spoiling you all with The Wikets, described as 'a musical wet dream of Caetano Veloso and Jobim rocking it up in a Gypsy bordello' so a night of many flavours. Breaking News just in: The Nest will be hosting the Foyer entertainment at the Southbank for the BBC Young Musician of the Year Award on Decemebr 5th and we have some supprises in store for you then.
See you soon. x Sam, Joe and Lauren

28/10/08
Roundhouse: Emerging Folk Proms
29/10/08
Steve Tilston + Lauren McCormick trio + The Wikets
Next Month sees the Launch of our Celtic London Season featuring the cream of Scotland's groundbreaking resurgent artists see website for all the concert details and expect some nights of pure musical joy from artists we are very lucky to be able to bring this far south.
06/11/08
Ross Ainslie and Jarlath Henderson
07/11/08
Ceilidh : Breabach + Cut A Shine _at_ Cecil Sharp House
13/11/08
Maeve Mackinnon
27/11/08
The Long Notes
28/11/08
Bodega _at_ The Old Boys Hall, 68 Boleyn Road, Dalston

DATES THIS MONTH:
Emerging Folk Proms at The Roundhouse
Tuesday 28th October
7.30 - 11pm
The Roundhouse, Chalk Farm Road tickets
Emit Bloch, Ewan Mclennan, John Dowling, Lauren McCormick and Emily Portman,
Lucy Wright, Wheeler Street, Theo Bard.

A one-night review of emerging musicians within the folk/routes and acoustic landscape
who are interpreting traditional songs and styles in a non-traditional manner. Hosted by
the Magpie's Nest in the glorious Roundhouse Chalk Farm Road, Chalk Farm, Camden.
Tickets via Roundhouse Website
Steve Tilston + Lauren McCormick Trio + The Wikets
Wednesday October 29th
Upstairs at The Old Queen's Head, 44 Essex Road, N1 8LN
7:30 – 12am, £6 N0 Open Mic
Tickets
The Old, The New, The No-nay Never! Steve Tilston, master of guitar and voice, veteran performer and gifted songwriter with a much covered catalogue of material. Father of the gifted Martha Tilston + Lauren McCormick Trio; Ballads and Musical Hall gems cut by roving young blades of the next generation + Gypsy punk meets Gilberto Jobim in a sunset of musical glory from The Wikets. Due to the musical format of this evening there will be no floor spots, next floor spots will be on the 6th November.
Celtic London Launch Night:
Ross Ainslee and Jarlath Henderson
Thursday November 6th
7:30 – 12am, Open Mic 8pm, main acts 9pm £6
Tickets

The Launch night of Celtic London, a showcase of the hottest tipped young folk and traditional acts from Scotland. Ross and Jarlath are a super fast piping duo joined with guitar. By the time Jarlath was 19 he had been crowned Uillean pipe champion three times. He was also awarded BBC Young Musician of the Year. Ross is the renowned piper with Salsa Celtica as well as regularly working with artists such as Dougie McLean.
Scottish Ceilidh Night with Cut A Shine and Breabach
Friday 7th November, £10, 7.30pm
Cecil Sharp House, 2 Regent's Park Road, Camden, London, NW1 7AY
Tickets


Celtic London presents a Scottish Ceilidh Night with Cut A Shine, London's New wave Barn Dancing phenomenon and Breabach, Scotland's answer to Bellowhead taking Scottish songs and tunes to the limit, including step dancing, mouth music and stonking piping reels and jigs. A night for dressing and dancing! Gingham or Tartan? Gingham or Tartan?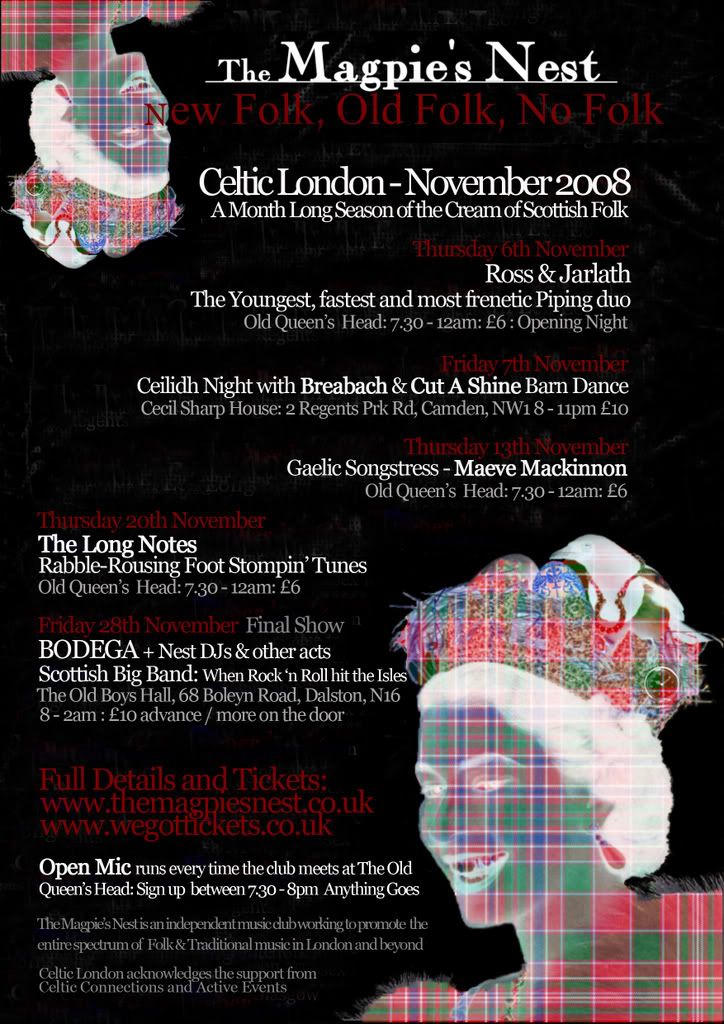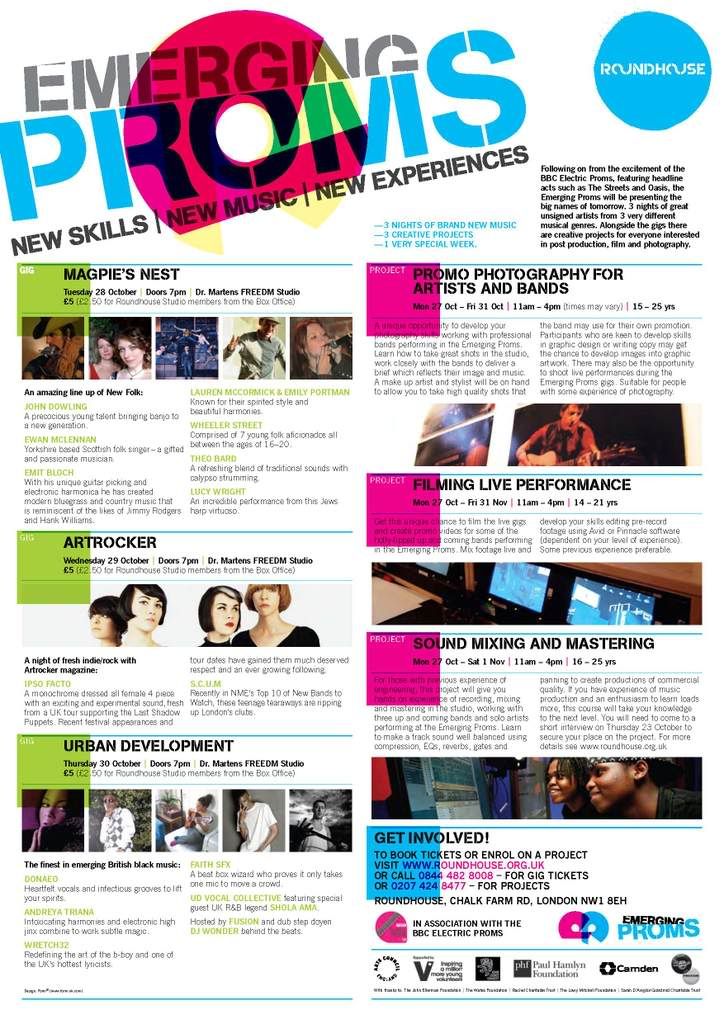 *****************************************************************************

And the last little taster....

For a little bit of one of your Magpie's Nest hosts on Radio three, check out the last quarter of The Verb on http://www.bbc.co.uk/iplayer/console/b00f130c

This email has been sent to you by Cut A Shine

61 Dresden Road London N19 3BG

To edit your details/unsubscribe

click here Sign-Up.to

: Right Person. Right Place. Right Time.