Allison Williams - Old Time music, Claw Hammer Banjo, vocals - played the London Barbican a couple of years ago :www.youtube.com/allisonwilliamsmusic
KentFolk had Allison Williams at Grove Ferry last year, with Chance McCoy on Fiddle (both from Tennessee) :
www.kentfolk.com/gig_reports/2010/2010-05-22_AllisonWilliams+ChanceMcCoy_GroveFerry_Kent/
This year Allison Williams is with Rachel Eddy, "a fantastic West Virginia fiddler/multi-instrumentalist"
www.myspace.com/banjorachel
Do please book your tickets in advance, there is limited space and we completely sold out at the first gig at the Plough & Harrow :
£8.00 Book (£10.00 on door).
KentFolk is just back from chasing music in Appalachia, where I chatted with Allison in Knoxville, over a lunch, and we raised the possibility of workshops.
Allison says "Rachel loves teaching workshops! In addition to fiddle, [we can both] teach guitar, banjo, singing, and even bass." Allison also calls American Square Dance.
So there will be fiddle & banjo instrumental workshops (£20) on Saturday 18th June, (4'ish / 5'ish) followed by an evening Americana jam / session / American Square Dance (with introductory dance workshop), in Littlebourne Thatched Barn.

Please email me if you are interested in an instrument or dance workshop, or in coming to the dance: beau_at_kentfolk_dot_com .
<![if !vml]>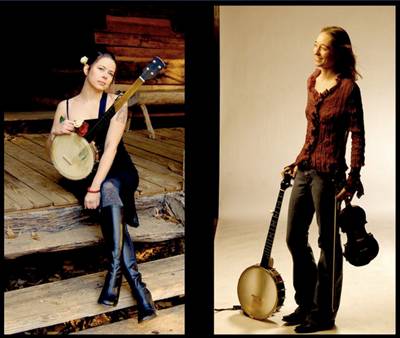 <![endif]>
Allison Williams & Rachel Eddy