<![if !vml]>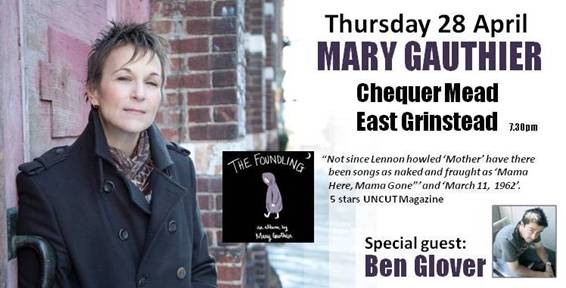 <![endif]>
Mary Gauthier's songs are as colourful as her background. Originally from New Orleans, she's survived jail, drug problems, living rough, various thankless jobs, the pressures of running a Cajun restaurant and intolerance of her lesbian lifestyle... and has the tales to prove it.
Joined for this show by the truly superb Irish singer-songwriter, Nashville-based Ben Glover.
AN UNMISSABLE SHOW!
Thursday
28 April 2011
7.30pm
Mary Gauthier
at Chequer Mead
East Grinstead
Support:
Ben Glover
www.chequermead.org.uk
£15 (£12.50)
Box Office 01342 302000
Mary Gauthier (pronounced Go-shay) has an incredible life story. Born in New Orleans, Louisiana, given up at birth by a mother she never knew, Gauthier was adopted by an Italian Catholic couple in Louisiana. At age 15, she ran away from home, and spent the next several years in drug rehabilitation, halfway houses, and living with friends. She spent her 18th birthday in a jail cell. Struggling to deal with being adopted and her sexuality, she used drugs and alcohol.
Spurred on by friends, she enrolled at Louisiana State University as a philosophy major, dropping out during her senior year. After attending the Cambridge School of Culinary Arts, she opened a Cajun restaurant in Boston, which she ran for eleven years. After achieving sobriety, she was driven to dedicate herself full-time to song-writing, and embarked upon a career in music. She wrote her first song at age 35, and has since released seven albums. The latest, the highly autobiographical The Foundling has received tremendous reviews.
"With 'The Foundling', Mary Gauthier has created her first masterpiece. Not for the easily frightened, it is the most raw, brave and ultimately satisfying album I've heard in a very long time. Brilliant. Absolutely brilliant. " No Depression Magazine
"With a voice like a grazed hawk, she sings bluesy Southern Gothic tales…Whatever you are doing I guarantee you'll stop and listen to every word." 4 Stars MOJO Magazine
"Without question, The Foundling is one of the most brilliant and heartbreaking pieces of music you will hear this year or any year." 5 Stars The Sun
We've been trying to book this exciting and prolific new artist for 2 years now. His third album 'Before the Birds' was released earlier this month and we can tell you it is superb, just as his earlier albums were - both were in our top three albums for 2009 and 2010, respectively.
Ben's story is quite amazing. He'd just finished his law degree in Belfast when he decided to become a troubadour instead of a barrister. Still relatively new to the scene, he was spotted and quickly found himself in Nashville recording with the likes of Vince Gill, Jim Lauderdale, Buddy Miller, and Mary Gauthier. Gauthier especially has taken an interest in Glover, adopting him as the support act for 2010 and now her 2011 UK tour. This from Ben's website:
"I am so grateful for the opportunity to support Mary on tour. She is one of the finest artists and people that I know," says Ben. "We had such a great time on tour last November and I'm looking forward to another successful run of shows. The first date kicks off at Chequer Mead in East Grinstead, England on April 28."
"From the rapt attention of everyone in this packed venue you might have thought he was a headliner rather than the support act but it probably won't be long before he is getting star billing" Gig review from St. Bonaventure's in Bristol by Keith Clark
More information on all our events can be found on our website: www.acousticsussex.org.uk. You can also find us on MySpace (with Playlists of tracks from upcoming artists) at: www.myspace.com/acousticsussex.
If you know anyone who you think may enjoy our events, please forward this email to them.
UNSUBSCRIBE
If you do not wish to be on this mailing list, please reply to this email, ensuring you include your name in the email and the word 'unsubscribe' in the heading.
Thank you.