From: Fiddle Hangout [eric_at_fiddlehangout_dot_com]
Sent: 14 February 2012 19:53
Subject: Fiddle Hangout News - iOS-Friendly Jukebox, New Drawings, Virtual Fiddle Fest, and more
<![if !vml]>
<![endif]>Hi Fiddlers!

Hope all is well in your neck of the woods. We're continuing to work at improving and growing the Fiddle Hangout, with new drawings and site features being rolled out regularly. Be sure to stop by!

Have you checked out the virtual fiddling festival? It's happening!

~ Eric Schlange, Fiddle Hangout Webmaster
Community Commitment at KV

<![if !vml]>
<![endif]>Kennedy Violins is passionate about building strong and healthy music communities locally and nationwide. With countless music programs disappearing each year and eager students unable to afford participation in the arts, they are committed to revitalize organizations in need of support.

Kennedy Violins is constantly involved in community outreach, donating instruments and offering financial support to music programs in need because schools, youth symphonies, local festivals, and competitions won't survive without our individual and collective efforts to keep music vibrantly alive in the world.
iPhone/iPad-Friendly Jukebox Launched

<![if !vml]>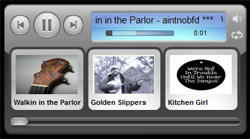 <![endif]>One favorite BHO feature is the jukebox, which lets you legally stream over 14,000 MP3's posted on the website. You can listen to individual songs, automatic playlists like the "Bluegrass Top 100" or your own custom playlists.

We're happy to announce that the jukebox now functions on iPhones and iPads, making it a very handy took for practicing or listening to tunes!
<![if !vml]>
<![endif]>Win a Fiddle DVD!

Enter our free drawing for your chance to win a new DVD, John Showman's "Fiddle Shuffle and Groove" from Woodhall Music! Three winners will be chosen!

On this DVD, John Showman teaches fiddle players how to get more tone and groove into their playing by going beyond one-note-per-bow bowing. Beginning with a detailed review of proper and relaxed bowing technique, John then shows how to add varied bowing moves, such as shuffling, syncopation, double stops and free-form bowing, to help the player achieve improved "feel" and "groovy-ness."
Popular Forum Topics

Here are a few currently popular topics from the Fiddle Hangout forums:
<![if !vml]>
<![endif]>Megan Lynch Lesson Pack Winner

Congrats to Donald Shanley of Branford, Connecticut, winner of a set of live lessons with six-time national fiddle champion Megan Lynch! Enjoy!
You are subscribed to the Fiddle Hangout News list as Beau_at_KentFolk_dot_com.