From: Fiddle Hangout [eric_at_fiddlehangout_dot_com]
Sent: 27 March 2012 00:54
Subject: Fiddle Hangout News - New Drawing, Bow Winners, Workshops and More
<![if !vml]>
<![endif]>We've got new drawings and workshops on top, and as always, a lot of lively discussion going on at the Fiddle Hangout. Come join us if you haven't visited in a while!

~ Eric Schlange, Fiddle Hangout Webmaster
Real Bluegrass Fiddle Is Not Just Tunes

<![if !vml]>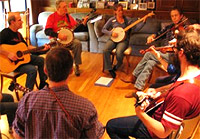 <![endif]>Bluegrass in small groups is fun -- and more than memorized parts. Learn how it's done! In jams, fiddlers follow chords to new songs, provide backup and rhythm chops, and do some singing. Wernick Method Jam Camps and classes are now happening nationwide. Fiddlers needed! Pete Wernick and his certified teachers <![if !vml]>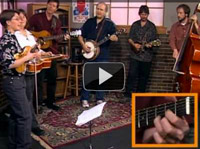 <![endif]>will get you playing real bluegrass in a jam with other musicians. Check local listings.

Can't get to a camp or class? Learn jam skills with Pete Wernick's slow jam-along DVDs.

Visit BluegrassJamming.com for lots of free jamming info.
Reiner and Lynch Workshops

<![if !vml]>
<![endif]>We have two workshops coming up from top-notch fiddlers Megan Lynch and Andy Reiner. Registration cost is $20. See below for details!
Megan Lynch
"Double Stops and Drones -
TakeYour Playing to the Next Level"
March 20

Andy Reiner
"String Grooves Chopshop"
April 21
Win a 3-Month Lesson Subscription!

<![if !vml]>
<![endif]>Enter our free drawing for your chance to win a 3-month lesson subscription at KimberleySessions.com, home of Kimberley Frasier!

Kimberly's online courses include play-along MP3s, and are great for both beginner and advanced fiddlers.
Popular Forum Topics

Here are a few currently popular topics from the Fiddle Hangout forums:
<![if !vml]>
<![endif]>Carbon Fiber Bow Winner

Congratulations to lucky winner Theo Greenup of Waveland, MS, winner of a gorgeous silver braided carbon fiber bow from our friends at Magic Rosin.

Enjoy!
You are subscribed to the Fiddle Hangout News list as Beau_at_KentFolk_dot_com.