Arrivals before 8pm - FREE - ?6 per person after 8pm
Entry Requirements: 18+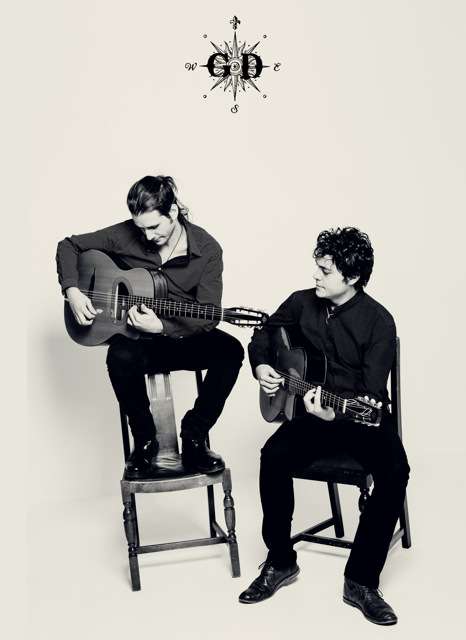 The Gypsy Dynamite recorded their live album here in November '14, Le Que Record's 9th live recording! Gypsy Dynamite is a guitar duo formed by Filippo Dall'Asta (Gypsy guitar) and Giulio Romano Malaisi (acoustic guitar) in London in 2012. Since then the two young Gypsy boys have been playing in Italy, France and in the UK's best venues.
The duo plays a wide repertoire of Gypsy jazz, Spanish and Italian music like Django Reinhardt, Caravan Palace, Paolo Conte, Toto Cotugno and even Chick Corea, all rearranged in a fresh and unique style. Expect some surprises too.
Prestige Premier Performance -From Holland:
The first time Don Vink has played here - a classy stylish Gypsy Swing Player who plays with soul grace and swing - well known around Europe but rarely has time to grace the stages of UK
But he is here at Le QuecumBar in UK performing for the first time
Do not miss this performance
World class - Don Vink's Parisien Gypsy Jazz Trio
?15 advance - ?17 cash OTD
?12 advance - ?13 cash OTD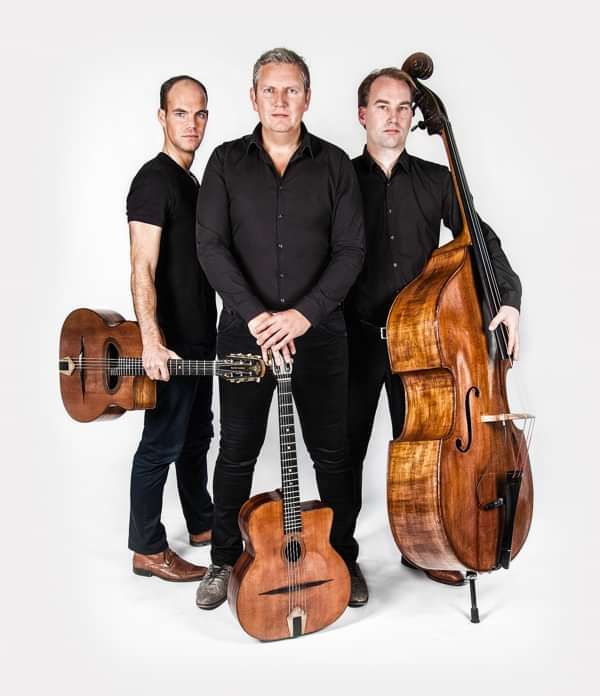 Experience the sound of Gypsy Jazz like you've never heard before. Have you ever listened to a particular song, and never felt the same again? The Gypsy Jazz band Parisien can take you there! Parisien is one of the best known gypsy bands in the Netherlands. The band was formed in 2001 and performs as a trio with lead guitarist and melodic virtuoso Don Vink, rhythm guitar player Pascal Theune, who is known for his endless endurance and bass player Govert Veltkamp, who will make you swing with his groovy base lines. Parisien will take you to the world of Hot Club de France with tunes that take you back to the ?20s and ?30s, inspired by the legendary Django Reinhardt. They will capture you with infectious melodic themes and hypnotic rhythms, and surprise you with their repertoire of exciting twists whose influences include the Gypsy Kings, Santana and Stevie Wonder. They learnt their music in the authentic gypsy manner, by listening, and it comes straight from their hearts. Their focus is on feelings and the creation of a perfect sound, which all comes together in their style of music. Parisien has played with many known artists in the scene such as The Rosenberg Trio, Paulus Sch?fer, Watti Rosenberg, Tim Kliphuis and Robin Nolan.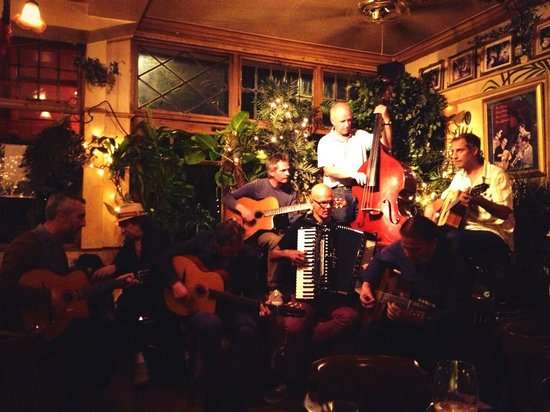 London's best kept secret - feel the buzz - be part of a hot music scene hidden away in Battersea but 10 minutes from Chelsea and Kings Road....
The famous FREE weekly Gypsy Swing jam session is known around the globe, the sessions are led by top Le QuecumBar bass players and many QuecumBar Allstars.
You saw Johnny Depp in Chocolate play Minor Swing, Django style. See and hear it live in our intimate 1930s!
Regular Gypsy Swing musicians and Le QuecumBar Allstars drop by to jam for Django, you never know who is here - the best of the best and new comers join in their joy of Django's music and swing the night away, violins, guitars, clarinets, sax, etc etc a band of musical Gypsies in their own way - even Hank Marvin has joined the Le Q jams !!
Parisian cabaret brasserie style, chill out with a bottle of quaffable wine and simple food always a great night full of musical surprises, transporting you to the swinging streets of Montmartre with all the colour and joy of the Belle Epoch.
If you play swing then bring your instrument!
If you can sing swing hop down and join the friendliest crowd in London! Our customers are friends our friends are customers. Le Q staff happy to serve and offer musical bites of inside info on what's hot, and not so hot!
The Simon Moore Gypsy Swing Guitar Duo
Arrivals before 8pm - FREE - ?6 per person after 8pm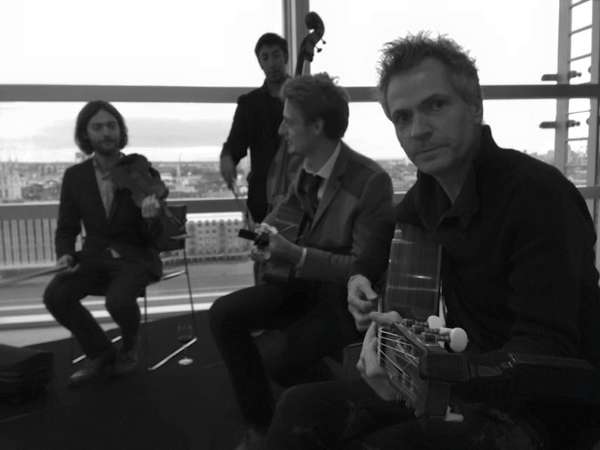 Simon Moore is amongst the elite of Gypsy swing guitar musicians on the London live music scene. Tonight he will be pairing up with another guitar player and they'll be playing from 8pm, charming your ears with some Django classics as well as other tunes from artists around during the early swing era.
FROM GREECE: JIM POLITIS - THE GHOST NOTES
?10 ADVANCE - ?12 CASH OTD
Entry Requirements: 18+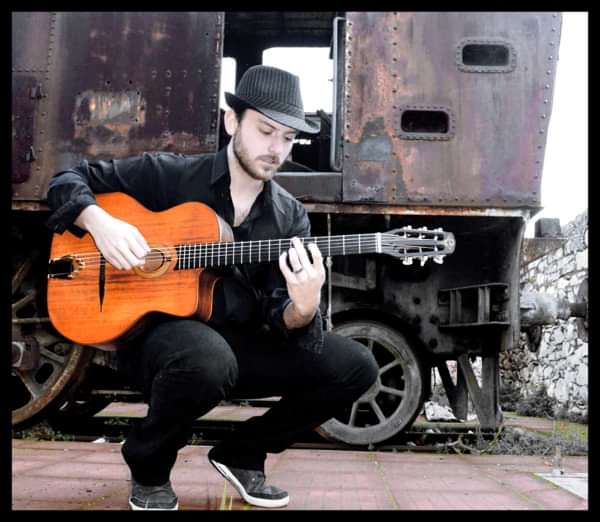 The Ghost Notes was born in Greece in 2012 by Lead Guitarist Jim Politis. They have released two original albums, "Jazzy-Key" and "Secret of a Memory" (Released by Hitchtone Music & Promotion), that combine Jazz and the Classical manouche atmosphere with a modern ethnic approach and Greek flavour in Gypsy Jazz music, and are characterised by the guitar solo virtuosity that defines this style. The Band has done 3 European tours and has performed in Jazz Clubs and Festivals all over Europe (Greece, Italy, Croatia, Hungary, Czech Republic, Germany, Netherlands, Belgium, Uk). The most significant performance includes: Royal Albert Hall Uk, 2015; Djangofollies Festival (Belgium 2016); Brussels Jazz Marathon Festival (2014); Athens Djangofest Festival (2013, 2014, 2015, 2016). A Performance with the Master of Gypsy Jazz Stochelo Rosenberg in Gazarte (Greece 2015) which said about Jim: "Amazing guitar player who combines virtuosity and feeling"; The Ghost Notes lead guitarist Jim Politis Malaysia/Singapore Tour 2015. We are Glad to Host such a musician as Jim and we would like to share with all of you a great live music night.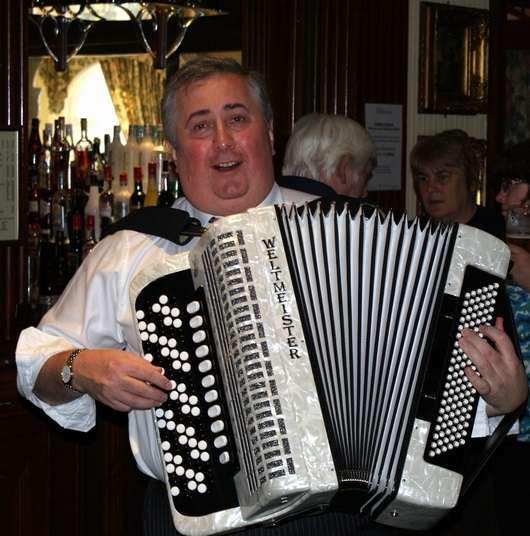 Magical accordion/vocals extraordinaire of Roman the roaming musical minstrel! His unique cabaret style makes him a one man full on showman Roman is a sensational artist who has played for the Duke and Duchess of Westminster, he graces our stage to entertain in his inimitable style and charm. A unique musician with immense talent and charisma and gold star credentials, he is as infectious, as his performance and entertainment, cabaret style seduction, with world favourites, to tap your feet to, from classical to swing to mussette, he does it all, accompanied by his rich, rousing, enrapturing baritone vocals. The impact of his enthusiasm and joy is infectious creating a night to remember!
Roman studied for five years at the Tchaikovsky Conservatory in Kiev and Choirmaster and Orchestra Conductor of the National Choir and Orchestra of the Ukraine. He has given 450 concerts around the world and played 26 Accordion Concerts in France. He studied the accordion from the age of 7 years, is a trained classical musician, folk musician and singer with a beautiful baritone voice, he also teaches piano, accordion and singing.
Clayson Sings Chanson, featuring Alan Clayson
?10 in advance and ?13 cash on the door
Entry Requirements: 18+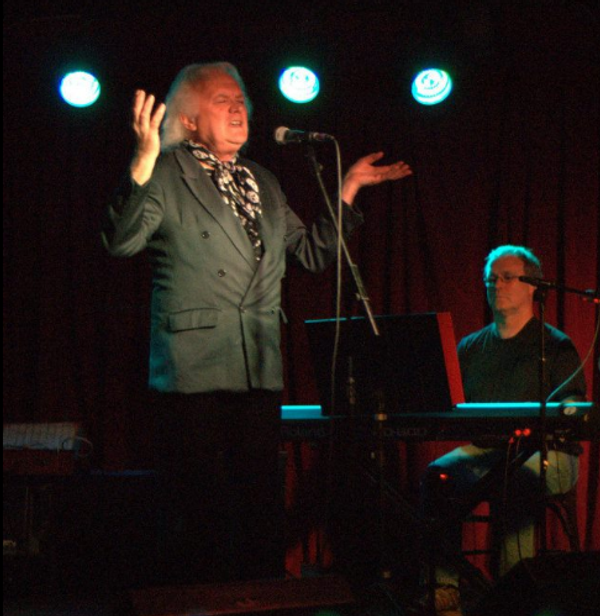 Alan Clayson was born in Dover, England, 1951. He is a late 1970s vintage of composer-entertainers that also embraces the likes of Wreckless Eric, Tom Robinson, Elvis Costello and John Otway. While he is still making regular concert appearances, he has become better known as an author Among his many books are Backbeat, which details the Beatles' early career in Germany, and which was made into a film, Ringo Starr: Straight Man or Joker?, and biographies of Jacques Brel, the Yardbirds, Serge Gainsbourgand Edgard Var?se, and others. He has written for journals including The Guardian, Record Collector, Mojo, Mediaeval World, Folk Roots, Guitar, Hello!, Drummer, Ugly Things, The Times, and The Independent. He has also been engaged to perform and lecture on both sides of the Atlantic - as well as broadcast on national TV and radio. He now brings to the public his most entertaining cabaret show of Chanson, in particular the Chanson of Jacque Brel. "Definitely more than a performance, an experience" (New York Village Tap) "A complex emotional landscape of understated dynamics and dark aesthetics" (Folk on Tap)
Fireworks tonight with - FRED SNOW - LE BISTROTET
Satyrical dark funny entertaining cabaret style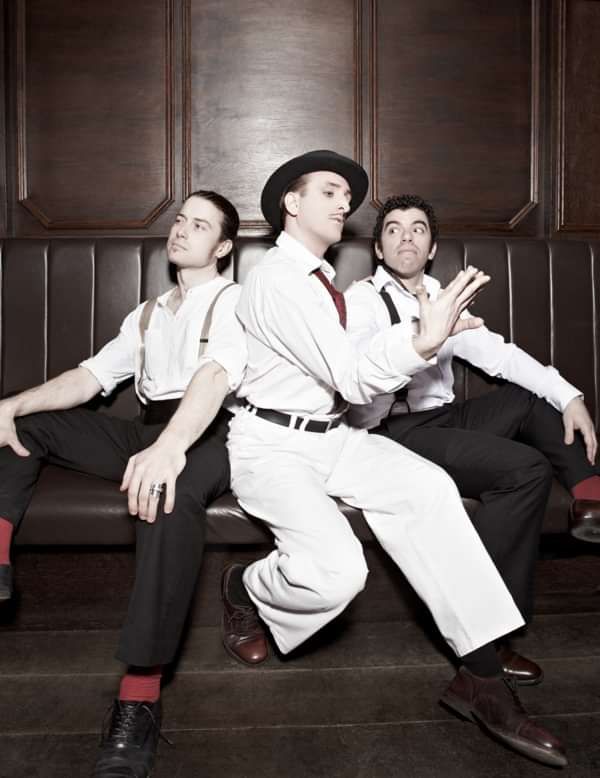 FAVOURITE OF LE Q THE GREAT FRED SNOW Whacky, witty, gritty, composer - comedian - lyricist - artist - raconteur - singer and guitarist! the inimitable FRED SNOW's edgy fun swing show, if they don't steal your hearts, they will steal your drinks? A rare glimpse of one of bohemian Europe's well kept secrets: LE BISTROTET A fire cracker for Sunday 5th November A louche manouche swing quartet Formed to record/appear in an Oscar winning movie! playing classic European caf?-bar manner/style adding suave & panache to all social proceedings. Improbable influences, original numbers & stylish old-school cover tunes delivering mercurial, musical fluidity garnered from years of experience in the Vaudeville & International Scenes.
Fronted by Fred Snow with Weill-esque Chutzpa, Woody Guthrie, Tom Waits, Marlene Dietrich, David Bowie, Jacques Brel, Agnes Bernelle, Alex Harvey, Queen & Velvet Underground are claimed as fonts of scant reverence.
Fred has written & recorded original material for TV & award winning movie soundtracks, providing opportunities to visit 6 different continents of the world with his own music, bands & solo acts, having been booked to appear with such luminaries as Camille O'Sullivan, Paul O'Grady, Paloma Faith, Kid Creole, Lana Del Rey, Jessie J., Brian Ferry, the Buena Vista Social Club as well as Nile Rogers & Chic!
TICKETS: WWW.QUECUMBAR.CO.UK Sunday ?15 cash OTD -Doors open 6pm - Tables are allocate on arrival - Food is served until 10pm
FAITH I BRANKO - GYPSY PASSION AND VIRTUOSITY
?10 ADVANCE - ?12 CASH OTD
Entry Requirements: 18+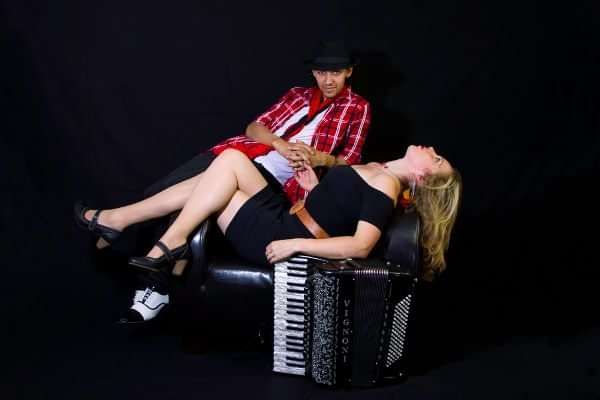 When the Balkan Media heard of their story in 2012, Faith I Branko quickly became well known across the Balkans and the International Balkan and Roma Diasporas and thus began their - to date - 5 year career in Balkan Television and Media: these include documentaries and guest appearances on stations such as RTS/ Pink/ Explosiv/ Exclusiv/ Prva Canal and MTV. Faith and Branko Ristic form the core of their high-energy live performance, combining the accordion, violin, effects pedal and tabor pipe to take the audience on a journey from melancholy Roma violin laments to storming ?Kolos' and explorations into jazz improvisation, swing and Gypsy Rumba. These styles form the heart of the set, which - for the majority - is joyous, passionate, boisterous, fiery and spirited. Branko's violin - described as ?something that Paganini would be proud of' [Lach Walter] soars at break-neck paces whilst Faith's ?nimble accordion accompaniment provides a beautiful bedrock' [The Guardian]. Faith i Branko are now the composers and producers of their debut album ?Gypsy Lover', recorded at Serbian film Director Emir Kusturica's Studio, mentored by Nicholas Hooper (Composer/Harry Potter) and released with Riverboat Records/World Music Network.