---

Photo by Danim
The Boathouse. The Grove Ferry,
Grove Road, Upstreet,
Nr. Canterbury, Kent CT3 4BP


KentFolk Bluegrass -
Biggin Hillbillies
2010-02-19




www.kentfolk.com
---
Bluegrass in the Boathouse
The first of KentFolk's Bluegrass / Old Time / Appalachian / Cajun evenings took off to a good start in the Boathouse, at the Grove Ferry Inn, on Friday 19th February, 2010.

A good first audience turned up to hear the Biggin Hillbilies, with James Lin on fiddle and vocals, Bob on Banjo, John on mandolin and vocals, Ray on Guitar and vocals, and Nye on Bass.

With four couples dancing to some of the tunes (including two Applalachian clogg dancers), with others joining in at the back towards the end, this was a good evening that seemed to be enjoyed by all who came.

Lesley Howe & George Abbott of Wild Sarsaparilla Old Timey Music have sent in the review below, which is interspersed with my photos
cheers, Beau


P1060297,9,301,2 Boathouse Bluegrass
---
LIVE GIG REVIEW - A NEW BLUEGRASS/OLD-TIME MUSIC VENTURE
Biggin Hillbillies at The Grove Ferry Inn Boat House, Canterbury
19 Februry 2010
Light green painted wooden walls, a vaulted ceiling,  wooden floor perfect for clogging, the Boat House puts me in mind of a chapel in one of those charming small towns in North Carolina.  The perfect setting for Bluegrass and Old Timey.  The Grove Ferry is just outside Canterbury. It's a lovely ivy covered pub right on the River Stour which attracts walkers, wildlife and boat enthusiasts during the day for its lovely walks on either side,  bobbing boats, and trips up the River to Sandwich.  
The evening was all thanks to Beau Webber and his partner Viv from KentFolk who found the venue and are pioneering Bluegrass Fridays with great enthusiasm.
There was good attendance with a contingent of the local bluegrass faithfuls you'll meet at festivals plus other faces new to me.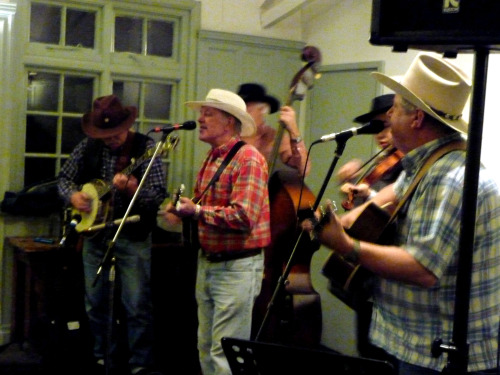 P1060286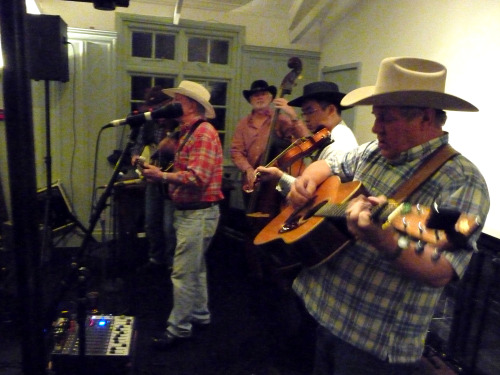 P1060292
The Biggin Hillbillies were definitely on form.  Their wide and varied set was straight out of a jamboree bag of bluegrass, jazz and classic standards showcasing Bob White's inventive banjo playing style. The evening kicked off with the Billy's Night Out written by John McDonagh.  Both John and Ray Butcher were in good voice and Nye Davies' immaculate rythym and lovely big fat bass runs adding to the mix.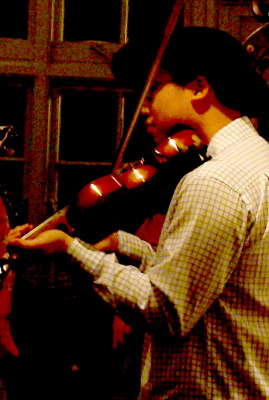 P1060304 Jamie Lin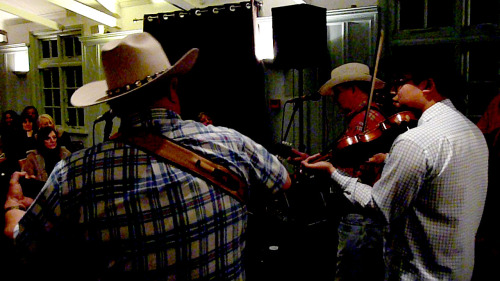 P1060308
Jimmy Lin on fiddle brings tremendous enthusiasm with his playing and he did a great version of Who Walks In When I Walk Out which got a big cheer and inspired lots of dancing.  It was on a roll.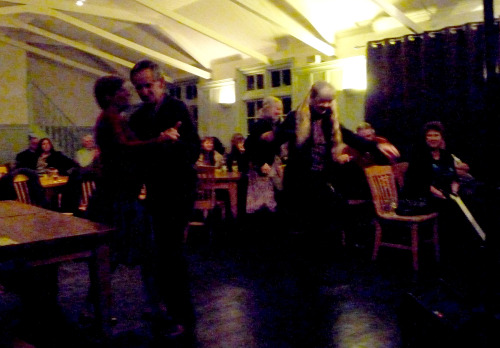 P1060309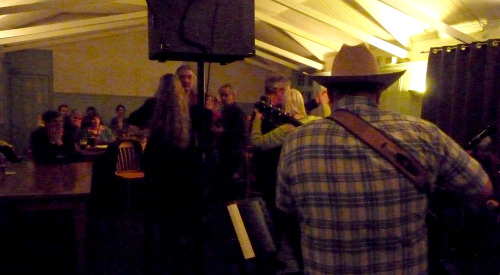 P1060313
  Beau and Viv and other couples gave a lovely demonstration of clogging and 2 Step dancing which was very jolly and all added to a very atmospheric evening.   The band closed the first set with a stirring House of the Rising Sun to hoots of pleasure from the audience.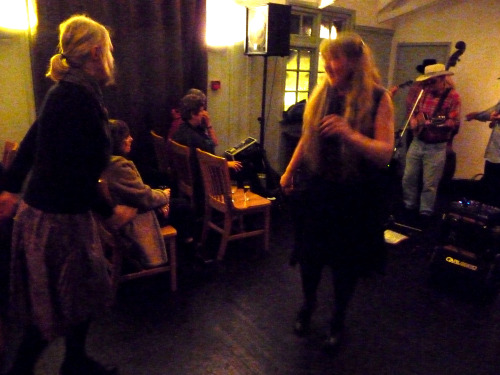 P1060315 Appalachian dancers
In the next half Bob delivered a cheeky and fun response to Ray's guitar in Duelling Banjos which breathed new life into the old chestnut and proved to be a crowd pleaser as did Jimmy Lin's Orange Blossom Special.   In contrast John sung the lovely Carter song I'm Thinking Tonight of My Blue Eyes and Jimmy again brought swing and style with the gospel This Train's Bound for Glory.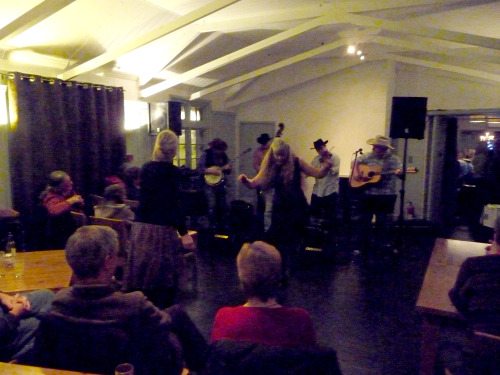 P1060317
The evening came to a close with the classic Roger Miller King of the Road and an encore and it seemed everyone was either dancing or cheering.
Thanks Beau and Kentfolk for this fantastic evening.  And it doesn't finish there, on Friday 16 April A Band Like Alice followed by Chance McCoy and Allison Williams from the States on Friday 22 May.  Wow!    For more information see www.kentfolk.com.
Lesley Howe & George Abbott
---
Text © Lesley Howe & George Abbott, unless otherwise stated.
Photos © Dr. Beau Webber, unless otherwise stated.
---