KentFolk Events 2008
Cajun Spring Dance with Yves Langlois
Sunday 25th May, 2pm to 4:30pm (Doors open 1pm)
Note the change of time - due to a major clash with another Lousiana gig less than 10 miles away in Sandwich (see below), we have now made this Cajun dance an afternoon one.
Cajun Fiddler/Songster Yves Langlois will be making a visit back to Kent from his new home in France. Yves was not only runner up for European Cajun Fiddler, but also writes and sings the songs as well. Yves will be joined by multi-instrumentalist Chris Taylor, as Dindon Sauvage. Do not worry if you don't know Cajun dance - there will be a short workshop before the dance, and you will soon pick it up.
This Cajun dance will be held in the excellent Littlebourne Thatched Barn, near Canterbury, Kent. CT3 1TU .
After this gig, why not eat locally and then just drive down the road to St. Mary's in Sandwich and catch the excellent Truckstop Honeymoon (were New Orleans), the top quality local group The Dealers, and Delta Tom - their doors open 6:30pm - make a Louisiana day of it ...
---
STOP PRESS :
We are now running these as joint events,
with a combined discounted ticket price of only
£12.50.
Or the difference if you already have a ticket !
---
---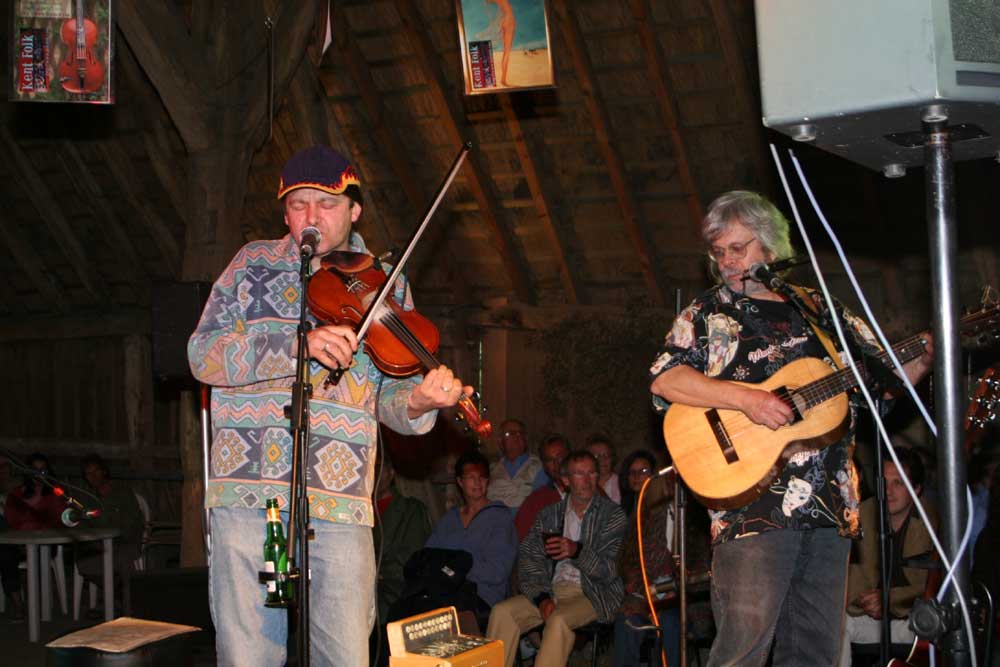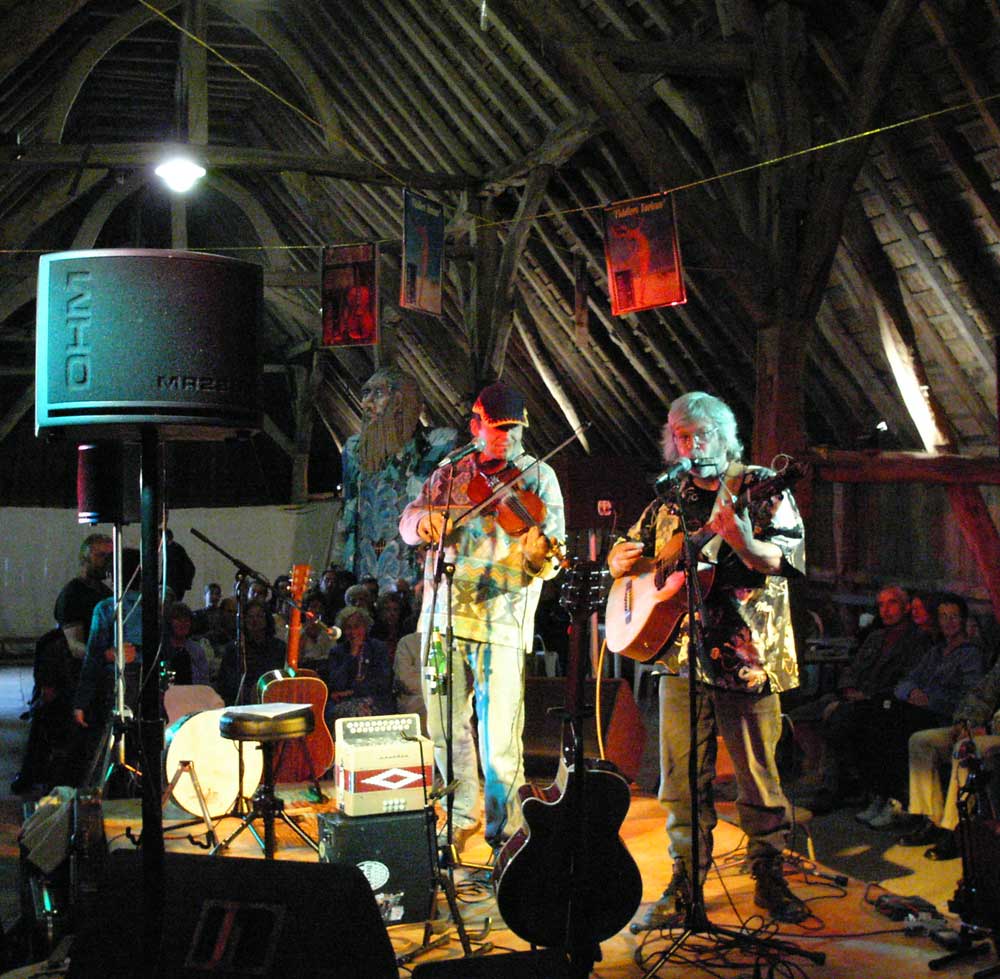 ---
---
Monkey Puzzle :
Laura Targett is a fiddler originally from Kent but now mainly found on the Australian fiddle circuit.

I am afraid that the Monkey Puzzle concert in Littlebourne Thatched Barn for the Monday 26th of May of the Spring Bank Holiday is off - they are no longer all available on this date.

However there will be pub gigs, and late-breaking news, there will be a concert at the Steiner School with Greg Sheehan, Tim Edey and Brendan Powers :

Monkey Puzzle :
Laura Targett : - fiddle, whistle.
Lucy Randall : - bouzouki, whistle, bodhran, cajon.
Pete Gazey : - a guitarist of great delicacy and subtlety.
Their Folk, Celtic, Cajun, Jazz, and Gypsy rhythms have a strong Kentish following.
Laura Targett is back for a while from the Australian fiddle circuit, and thus there will be some special Monkey Puzzle gigs arranged in June.

Monkey Puzzle have been playing together since 2000, and just keep getting better : www.kentfolk.com/gig_reports/2000/2000-06-22_Monkey_Puzzle_Ship-Centurian.html Since then Laura has been spending much time on the Australian fiddle circuit, but returns for flying visits, and Monkey Puzzle slot together like a well-oiled machine.

Tim Edey often joins them for some numbers - he has walked into a number of past KentFolk Monkey Puzzle gigs, see the gig-reports at : www.kentfolk.com/FiddlersVarious/ . Tim created some multi-tracking recordings by Tim of Tim, Laura and Lucy in 2001 : www.kentfolk.com/Laura_Targett/Tim_Laura_Lucy.html

In 2005, at Chris Wood's excellent suggestion, Monkey Puzzle formed the up-tempo climax to Fiddlers Various 2005 : www.kentfolk.com/FiddlersVarious/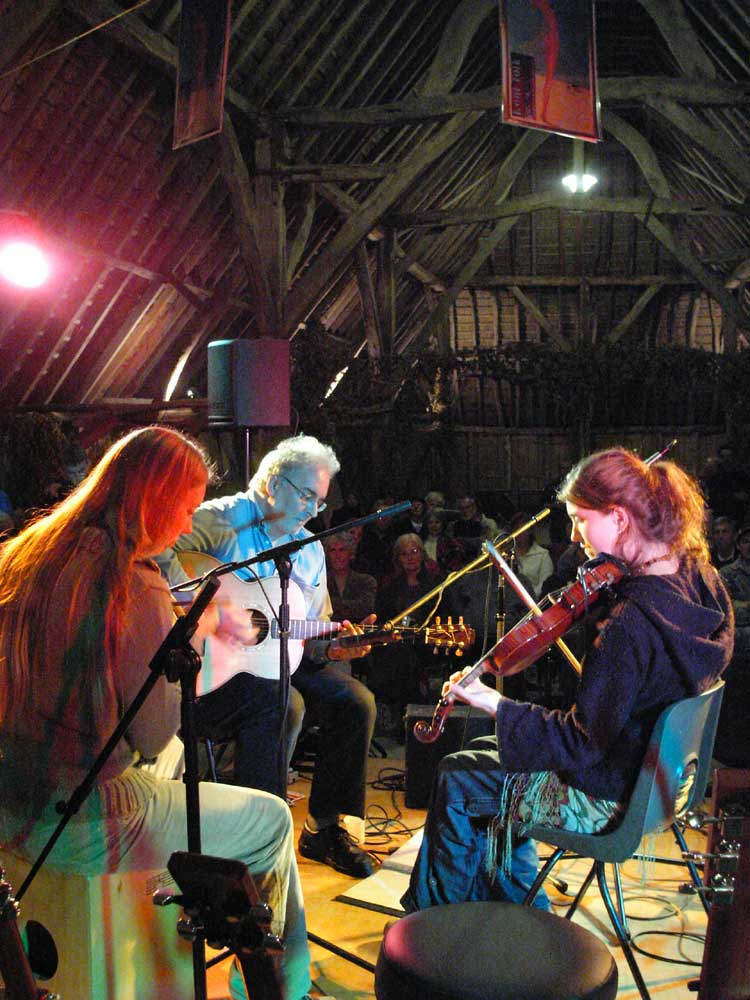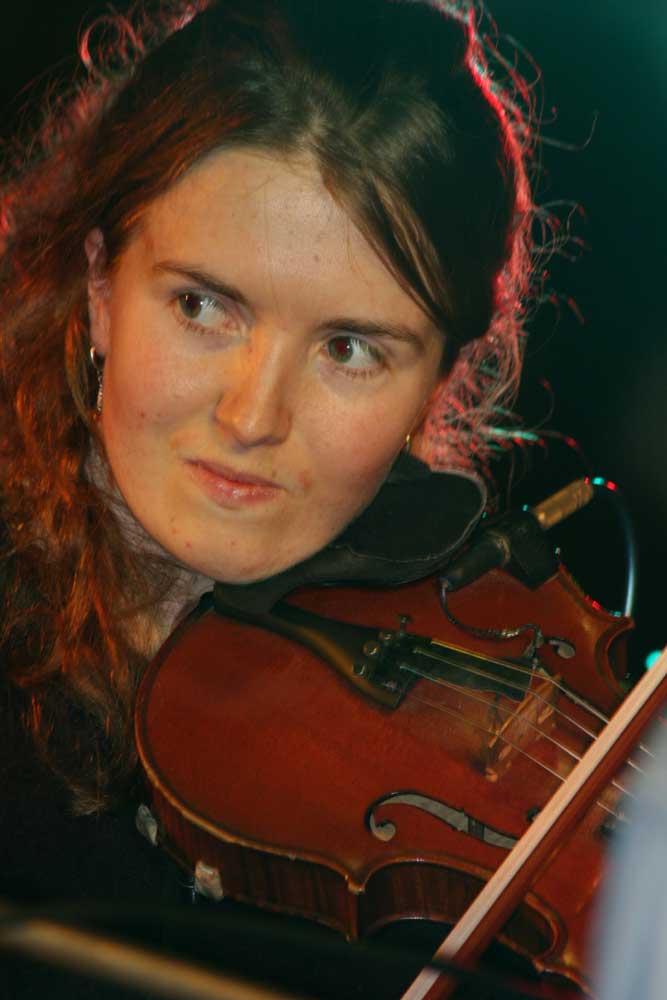 ---
KentFolk Events 2007
Saskia Tomkins and Steafan Hannigan
Saskia Tomkins and Steafan Hannigan are current and recent All Britain Fleadh winners for Fiddle (Slow Air), Uilleann Pipes, Flute, Whistle, and Bodhran. Now resident in Canada, they are visiting the UK and the continent.

Workshops: Fiddle, Pipes, Flute, Whistle & Bodhran
Sunday 1st April.
Saskia and Steafan will be holding workshops in Littlebourne Thatched Barn for all these instruments, within the Celtic, Cajun, Eastern European and Gypsy Jazz genres.
Workshops £15 each, from 11 am, and in the afternoon, in the excellent Littlebourne Thatched Barn, near Canterbury, Kent. CT3 1TU - exact timings to be decided.

Celtic Session with Saskia Tomkins and Steafan Hannigan :
Sunday 1st April.
The regular monthly Celtic Session in The Anchor, Faversham has been delayed a week to enable Saskia and Steafan to take part.
8:30 pm Anchor Inn, 52 Abbey Street, Faversham, Kent. ME13 7BP

Concert: Saskia Tomkins and Steafan Hannigan
Monday 2nd April.
Saskia and Steafan will be giving a concert in Littlebourne, near Canterbury, featuring Celtic, Cajun, Eastern European and Gypsy Jazz music.
£6, 7:30 for 8pm, War Memorial Hall, 58 High Street, Littlebourne, Nr. Canterbury, Kent. CT3 1ST

Tickets: www.kentfolk.com/tickets/ - Print a Workshop Booking Form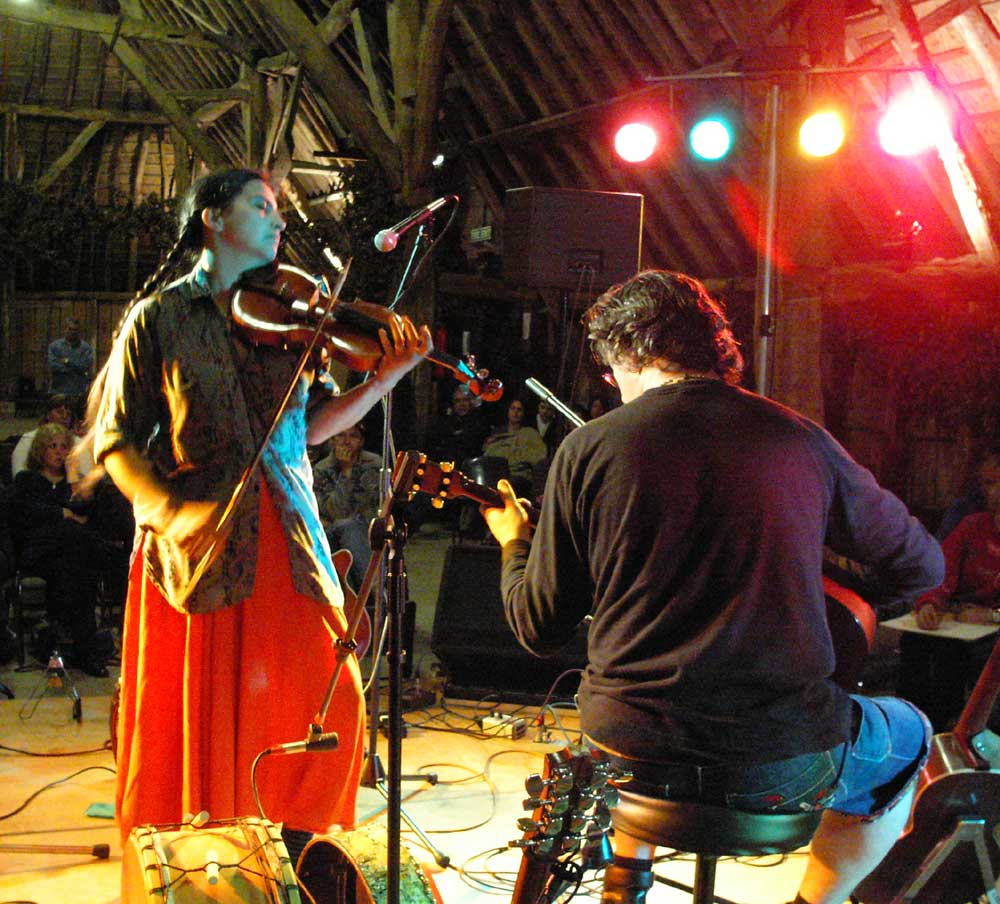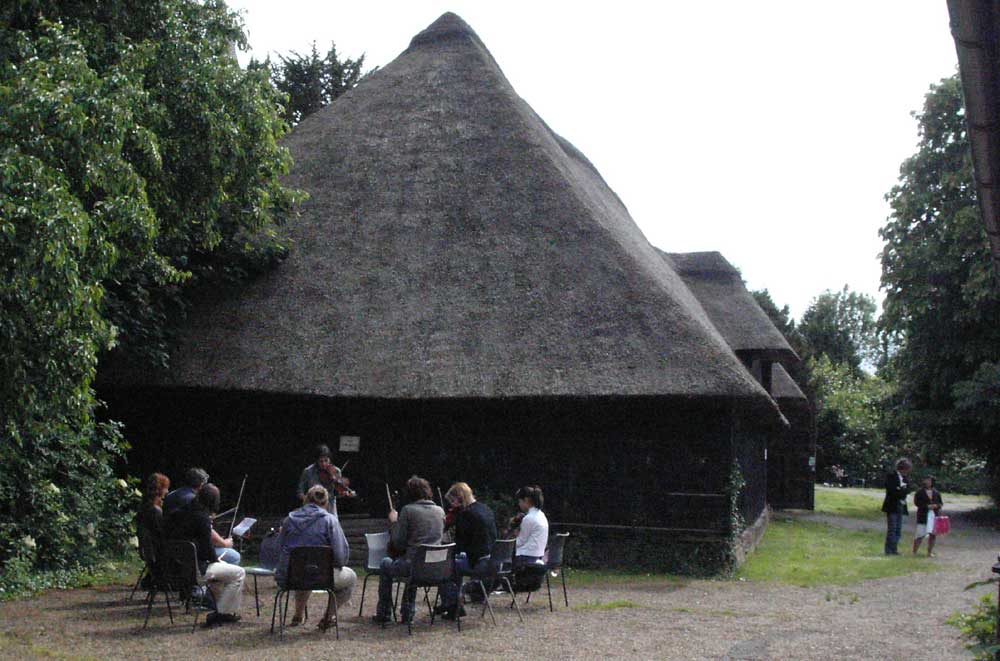 ---
Fiddlers Various 2007 - Tommy Peoples
Saturday 9th & Sunday 10th June.
Master Irish fiddler Tommy Peoples from Donegal has accepted an invitation from KentFolk to visit the South East of England in the Summer of 2007, as a Fiddlers Various special event.

Tommy Peoples is, quite simply, a living legend, the greatest exponent of the driving Donegal style which is his hallmark. A founding member of the Bothy Band, his 1999 solo CD "The Quiet Glen" earned him his country's highest accolade as "Musician of the Year", the first person to be so honored by the Irish Government.

He will be holding fiddle workshops, and giving recitals/concerts in both Lewes, Sussex, on Saturday 9th June, and Littlebourne, Kent, on Sunday 10th June.

See : further information, and tickets - Print a Workshop Booking Form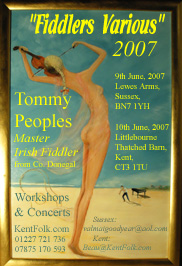 "Fiddler on Beach" - original oil by Navi