---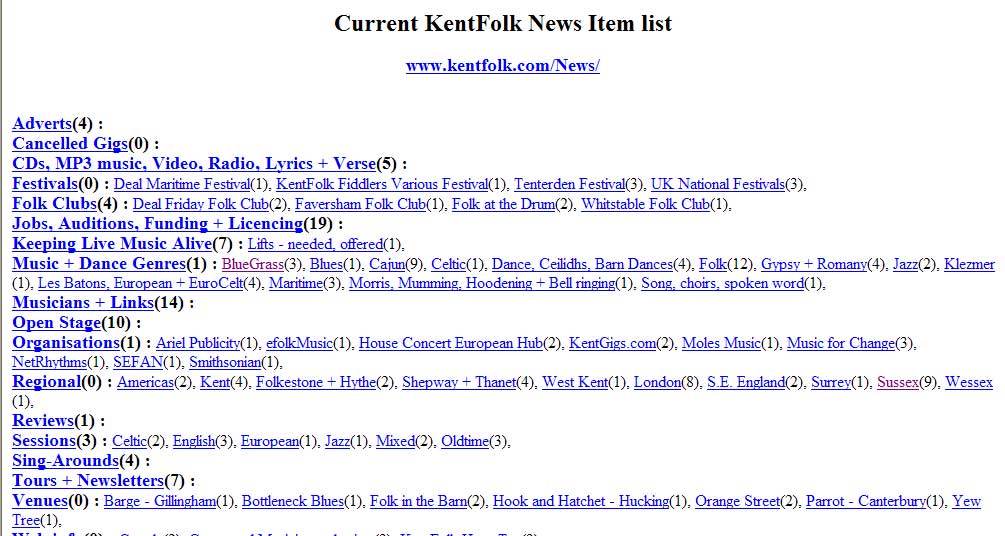 Here is a new compact direct-access Contents list for the News pages : www.kentfolk.com/News/contents.html
Total number of Current Month's News Items : 211

Hi, My laptop with the source of the KentFolk site was away for repair for ages, but is now dead; I am transfering to a new machine, but there is a lot of software still to configure.

OK, things are looking good - News is now being updated again, though there is a substantial backlog now to be dealt with.
Graphics in news items are now handled much better: graphics in a much wider range of input formats now seem be handled correctly.
However isolated .jpg files are still not much use if they are not directly embedded in an email, web page or MS Word document.

The calendar is also now being updated again. However there are lots of new gigs to add now.

KentFolk now has a Facebook presence; see :
www.facebook.com/pages/KentFolk/290937071592
and I am flagging some breaking news there.

Check out the KentFolkVideo page on YouTube - I have updated it with a lot of new Kentish videos that I have taken and uploaded over the last year.
---
Gigs at : The Boathouse, Grove Ferry Inn, Grove Road, Upstreet, Nr. Canterbury, Kent. CT3 4BP
Info, map, tickets :
01227 721 736, 07544 915 464 www.kentfolk.com/bluegrass
---

A KentFolk iGoogle Gadget that you might find useful if you have an iGoogle home page :
Want rapid access to info on the Kentish music scene ?
Add "KentFolk.com for Live Music in Kent" to your iGoogle page.
Click on the [+Google] button to add this KentFolk Gadget to your iGoogle homepage.
It will help take you into the depths of the KentFolk site, hopefully directly to the pages most relevant to your interests.
Scroll down on the Gadget to see the latest news item high-lights, without even having to leave your iGoogle home page.
---
Multi-level directories of News :
Do keep sending me items for both the calendar and this news section -
Please see the info at the bottom of the news pages for guidance as to good formats to send me news items for these pages - large .jpg files are not easy to use - and also for suitable formats for event listings for the calendars.
cheers, Beau.
---

Adverts
......| 2010-07-21 - New jazz group.txt
......| 2010-08-16 - Dolphin - We Now Stock Bose Audio Systems From 25.htm
......| 2010-08-25 - Dolphin - Propellerhead Reason 5 Record 1.5 Now In Stock.htm
......| 2010-08-26 - Dolphin - Save s On B-Stock KRK Monitors Back To School Deals.htm
Cancelled Gigs
......| 2010-08-27 - SESSION CANCELLED this month - last Sunday of the Month at Wingham.htm
CDs, MP3 music, Video, Radio, Lyrics + Verse
......| 2010-03-08 - CDs by Canterbury based singer-songwriter Sarah Reed.htm
......| 2010-03-12 - Krista and the Bubble Band - CD.txt
......| 2010-04-17 - Laura Targett - New fiddle CD.txt
......| 2010-05-30_Tim Edey CD launch - the collective - Grove Ferry - 17th June 2010.txt
......| 2010-08-12 - Pete Fyfe - Review Sleeve.htm
......| 2010-08-27 - SG Records newsletter.htm
......| Kentish Hops - Book and CD.htm
......| Kentish musician's MP3 Tracks and Digital Albums for sale at eFolkMusic.html
......| Simon Evans - BBC Radio Kent - listen at any time.html
Festivals
......| 2010-05-05 - 2010 Frank Harte Festival Programme.mht
......| Broadstairs Folk Week
......| Canterbury Festival
......| Deal Festival of Music and the Arts
......| Deal Maritime Festival
......| ......| 2010-08-25 - DMFF PR - 25th Aug.htm
......| ......| 2010-09-01 - Programme DMFF.pdf
......| ......| Deal LifeBoat House shanty singing - 2003 - MP3 downloads available.txt
......| Faversham Hop Festival
......| ......| 2010-08-25 - Wheeler Street Concert - Friday 3rd Sept.htm
......| KentFolk Fiddlers Various Festival
......| ......| Tommy Peoples photo report - London, Lewes and Littlebourne - September 2009.html
......| Other Kentish Festivals
......| ......| 2010-08-25 - Wicked Brew Festival 30th August.htm
......| ......| 2010-08-25 - Wicked poster 2010 artistes.pdf
......| ......| 2010-08-29 - YESTERDAY AT ASH.htm
......| ......| 2010-09-01 - NEXT MONDAY AT ASH.htm
......| Rochester Sweeps Festival
......| Tenterden Festival
......| ......| 2010-02-04 - TWO NEWS ITEMS RE FOLK IN TENTERDEN.htm
......| ......| 2010-02-14 - Programme advert price list 2010.pdf
......| ......| 2010-02-14 - Your chance to advertise in our 2010 programme.htm
......| ......| 2010-07-29 -Tenterden Folk Festival 2010 update.htm
......| ......| SEFAN 2010-02-16_01 Two Items from Tenterden Folk Festival Folk Club. Kent.htm
......| UK National Festivals
......| Wye Fayre
Folk Clubs
......| Crabble Mill Folk Club
......| ......| 2010-05-22 - Crabble Mill Folk - June July Aug 2010.htm
......| ......| 2010-08-25 - CRABBLE FOLK SUPPER - 27 AUG 10.htm
......| Deal Friday Folk Club
......| ......| 2010-05-22 - Friday Folk, Deal .htm
......| Drum Folk Club
......| ......| 2010-05-22 - Drum Folk Club - June Jully August 2010.htm
......| Egerton Folk Club.htm
......| Faversham Folk Club
......| Monthly_Folk-Club_list.html
......| Tenterden Folk Club at The Woolpack.htm
......| Walthamstow Folk Club
......| Whitstable Folk Club
......| ......| 2009-02-11 - Find Whitstable Folk Club on Team.KentFolk.htm
Graphics
Jobs, Auditions, Funding + Licencing
......| 2008-12-29 - The Licensing Act 2003 is destroying live music in Kent.html
......| 2009-01-19 - The Publican - Home - Pubs closing at rate of 39 per week.htm
......| 2009-01-20 - Licensing enquiry - Loss of live music - our ref +++570.txt
......| 2009-07-28 - SCoFFnews Petition to No 10.htm
......| 2009-08-03 - LIVE MUSIC LICENSING.htm
......| 2010-01-05_Consultative-document_exempt_small-live-musicevents.pdf
......| 2010-01-05_Licensing Exemption discussion.txt
......| 2010-01-05_Licensing_Exemption_discussion.html
......| 2010-01-07_Licencing_Exemption_discussion-continued.html
......| 2010-05-06 - The Green Room Summer Theatre School.html
......| 2010-05-11 - Event organisers wanted Apply now for your chance to organise a music event for Oxfam.txt
......| GigList_DateCount.pdf
......| Public Entertainment Licensing Act (2003) - prior news items.txt
......| SEFAN 2008-03-24_03 IMPORTANT Certificate of Sponsorship (CoS).htm
......| SEFAN 2009-07-10_03 The Event Safety Guide (The Purple Guide).htm
......| SEFAN 2010-01-29_02 V A Instrument Collection Petition.htm
......| SEFAN 2010-08-31_01.CALLOUT ceilidh band for 11th September- due to cancellation.htm
......| The Licensing Act 2003 is destroying live music in Kent.html
Keeping Live Music Alive
......| 00 - 2009-01-22 - Keeping the Live Music Alive.htm
......| 01 - 2008-12-29 - The Licensing Act 2003 is destroying live music in Kent.html
......| 02 - 2008-12-29 - GigList_DateCount.pdf
......| 19 - SEFAN 2008-12-03_03 actionformusic Form 696 - E Petition.htm
......| 2009-01-20 - Licensing enquiry - Loss of live music - our ref +++570.txt
......| 2009-02-07 - Governments proposed - Code of Practise - for pubs.htm
......| 2009-03-28 - RE How to get more live music in the pubs ! Kentish Gazette, 26th March 2009.htm
......| 2009-07-28 - SCoFFnews Petition to No 10.htm
......| Lifts - needed, offered
......| ......| 2009-02-16 - lift needed - Deal or Dover to the Drum, North Stansted, any Thursday.txt
Music + Dance Genres
......| BlueGrass + Old Time
......| ......| 2010-01-31 - KentFolk Friday Bluegrass in East Kent.html
......| ......| 2010-08-17 - South East England Bluegrass Old-Time Music .htm
......| ......| 2010-08-18 - Bluegrass EXTRA.htm
......| ......| 2010-08-25 - Friends of American Old Time Music and Dance - mailout 25th August.htm
......| ......| 2010-08-26 - Bluegrass+old-time Correction - So Last Century at Snowdrop on 28th not 29th Aug.htm
......| ......| 2010-08-26 - South East England Bluegrass Old-Time Music .htm
......| ......| 2010-09-01 - South East England Bluegrass Old-Time Music.htm
......| ......| 2010-09-01 - World of Bluegrass - Nashville.htm
......| ......| graphics
......| Blues
......| ......| 2010-08-10 - Katie B - Faversham.htm
......| Cajun
......| ......| 2010-01-06 - Cajunbarn is back!.htm
......| ......| 2010-04-21 - Cajunbarn - diary dates.htm
......| ......| Cajun + Zydeco Dance Workshops 2010 - Whitstable.html
......| ......| Cajun website and email list.html
......| Celtic
......| ......| 2010-03-09 - Brendan Power, Tim Edey, Lucy Randall gigs - 2010.htm
......| ......| 2010-08-12 -Camine gigs - Aug to Nov 2010.htm
......| ......| 2010-08-20 - Selkie listing.txt
......| ......| 2010-08-27 - SESSION CANCELLED this month - last Sunday of the Month at Wingham.txt
......| ......| Camine Gig List 08 2010.htm
......| ......| Monthly Session list.html
......| Classical
......| Dance, Ceilidhs, Barn Dances
......| ......| 2010-03-01 - Canterbury Folk Dance Club.htm
......| ......| 2010-04-27 - Exciting Dance at The Gulbenkian.htm
......| ......| Dance School in Maidstone.htm
......| ......| Kentish Hops - Book and CD - Dances.htm
......| Folk
......| ......| 2010-08-12 - hurdy-gurdy day - Ramsgate.htm
......| ......| 2010-08-12 -Bowstring News.htm
......| ......| 2010-08-24 - Gig list fron Doug Hudson.htm
......| Gigs from Facebook
......| Gypsy + Romany
......| ......| 2010-08-20 - Le QuecumBar Gig List August September October November .htm
......| ......| London Gypsy Orchestra Musicians.htm
......| Jazz
......| ......| 2010-08-15 -Jazz Connection A Tribute to Louis Prima UK tour Sept..htm
......| ......| Hot Club Jazz at St Julians Sevenoaks.htm
......| ......| Open Mic Jazz Singers Night.htm
......| Klezmer
......| ......| 2010-08-09 - Autumn klezmer news +.htm
......| Les Batons, European + EuroCelt
......| ......| 2010-08-12 -hurdy-gurdy day - Ramsgate.htm
......| ......| Monthly Session list.html
......| ......| Relig Oran mp3 downloads from eFolkMusic.txt
......| Maritime
......| ......| CONTINUATION OF THE SHANTY CREW.htm
......| ......| Deal LifeBoat House shanty singing - 2003 - MP3 downloads from KentFolk and eFolkMusic.txt
......| ......| The maritime tradition.htm
......| Morris, Mumming, Hoodening + Bell ringing
......| ......| 2009-07-29 - Woodchurch Morris Men.htm
......| Roots + World
......| ......| 2010-08-25 - Free World Music Event.txt
......| Song, choirs, spoken word
......| ......| 2010-05-05 - 2010 Frank Harte Festival Programme1.htm
......| ......| 2010-08-26 - Sing Your Heart Out - book signing invitation.htm
......| ......| 2010-08-30 - Harmonic Temple October 2nd.htm
......| ......| SEFAN 2010-08-31_02 SingFest 2010.htm
Musicians + Links
......| 2008-11-05 - Kai Tonjes instruments - New workshop.htm
......| 2008-12-22 - High Weald Ridge - Bluegrass.txt
......| 2008-12-28 - porch swing blues gig list.htm
......| 2009-04-29 - Link Exchange Request.txt
......| 2009-07-29 - Tony Lesurf (drums,Bodhran & backing vocals).htm
......| 2009-09-10 - Alison Rowley - caller, fidlder.htm
......| 2010-02-07 - George Chater.htm
......| 2010-02-10 - Pete Fyfe - Live Review of JEZ LOWE.htm
......| 2010-02-23 - Goosebumps.txt
......| 2010-03-08 - Sarah Reed - Gig list and CDs.htm
......| 2010-03-13 - link exchange request - music instruments sites.htm
......| 2010-03-14 - Mike Heron - ISB - Uncut Magazine.htm
......| 2010-04-07 - The Jones Boys.txt
......| 2010-05-04 - Stephen John Morse + Bleak Angel.txt
......| Graham Corbould - singer-songwriter.htm
......| Phil Thorne -acoustic country blues .htm
......| Raglan Road.htm
......| Ratalaz - eFolkMusic.txt
......| Tony Cox - virtuoso guitarist.htm
Open Stage
......| 2009-05-25 - Two new open stages.txt
......| 2009-07-21 - Sunday Open Mic Night at The Sondes Arms, Selling.htm
......| 2009-07-21 - Sunday Open Mic Night at The Sondes Arms, Selling.pdf
......| 2009-07-23 - Open Stage info update fron CJ.htm
......| 2010-01-14 - Greenwich - fridaymic.com.htm
......| CJ's open mic nights.txt
......| Jack Pound's Open Stage.txt
......| Monthly Open Stage list.txt
......| Open Mic Nights - Chislehurst - hosted by the Missouri Gutts.htm
......| Open Stage - Phil for cj.htm
......| SEFAN 2008-04-02_02. Open Mike at The Pig Butcher (formanlly The Fireman's).htm
Organisations
......| Ariel Publicity
......| ......| 2010-09-01 - Pre-Cleared Podsafe Presents Kid Friendly Podsafe Music.htm
......| EFDSS
......| efolkMusic
......| ......| 2010-07-27 - efolkMusic Community New 07.27.2010.htm
......| FAE - Folk Arts Network
......| House Concert European Hub
......| ......| 2010-01-11 - The Sample CD and notes.htm
......| Indie Contact
......| KentGigs.com
......| ......| 2010-08-17 -News and Gigs Wotson 29th August to 4th Sept 2010 - Kent E Sussex Gig Guide.htm
......| ......| 2010-08-25 - News and Gigs Wotson 5th Sept to 18th September 2010 - Kent E Sussex Gig Guide.htm
......| Making Music
......| Moles Music
......| Mrs Casey Music
......| Music for Change
......| NetRhythms
......| ......| 2010-08-13 - NetRhythms the Glorious 12th.txt
......| ......| 2010-09-01 - NetRhythms a fabulous 4th quarter!.txt
......| SCoFF
......| SEFAN
......| ......| SEFAN 2010-08-25_01 NETWORK news.htm
......| ShivaNova
......| Skiddle
......| Smithsonian
......| VAE - Voluntary Arts England
......| WeGotTickets
......| ......| 2010-08-25 - Brandywine Music brings Show of Hands Wishbone Ash Seth Lakeman John Otway and more to the South.htm
......| ......| 2010-08-27 -WeGotTickets for KRS-One + Wavves + Peter Doherty + Drever McCusker Woomble + Bizarre Ball + more....htm
Regional
......| Americas
......| ......| 2010-08-16 - Music News Nashville for August 16 2010.htm
......| ......| 2010-08-23 - Music News Nashville for August 23 2010.htm
......| ......| 2010-08-25 - MNN Daily News for August 25 2010.htm
......| ......| Music News Nashville for August 16 2010.htm
......| Essex
......| Europe
......| Hampshire
......| Ireland
......| Kent
......| ......| 2009-03-20 - State of play in Canterbury pubs.html
......| ......| 2010-08-17 -News and Gigs Wotson 29th August to 4th Sept 2010 - Kent E Sussex Gig Guide.htm
......| ......| 2010-08-25 - News and Gigs Wotson 5th Sept to 18th September 2010 - Kent E Sussex Gig Guide.htm
......| ......| Folkestone + Hythe
......| ......| ......| 2010-01-21 - Kent Folk Team - Folkestone Hythe.htm
......| ......| ......| Folkestone + Hythe - News + Events.htm
......| ......| Shepway + Thanet
......| ......| West Kent
......| ......| ......| West Kent - News + Events.htm
......| London
......| ......| 2010-08-18 - Magpie's Nest - August shows + London Folk Festival.htm
......| ......| 2010-08-20 - Le QuecumBar Gig List August September October November .htm
......| S.E. England
......| ......| SEFAN 2010-08-24_03 Gary's Club - Newsletter - What's On in September 2010. SUSSEX SURREY.htm
......| Scotland
......| Suffolk
......| Surrey
......| Sussex
......| ......| 2010-08-29 - Acoustic Sussex Newsletter 2010-08-21.htm
......| ......| Acoustic Sussex Newsletter 2010-09-01 - Thea Gilmore.htm
......| ......| SEFAN 2010-08-24_01 EVENTS (2 posts) SUSSEX.htm
......| ......| SEFAN 2010-09-01_01 EVENTS (3 posts) SUSSEX.htm
......| UK National
......| Wessex
......| World
Reviews
......| 2010-01-20 - Review of Pete Cooper's - American Old Time Fiddle Tunes.html
......| 2010-08-29 - Pete Fyfe - Book Review.htm
Sessions
......| 2009-09-01 - Bluegrass+Old-Time - new session.htm
......| 2010-03-13 - Black Horse session - now ended.htm
......| 2010-05-29 - SCoFFnews Romsey Wednesday folk session (starry folk) on the move - now 'Sunny Folk'.htm
......| A plea for new players at traditional sessions - particularly younger players.html
......| Americana
......| ......| 2010-08-10 - Americana session - Bear - 30th Aug 2010.htm
......| Bell+Jorrocks
......| Celtic
......| ......| 2010-08-27 - SESSION CANCELLED this month - last Sunday of the Month at Wingham.htm
......| ......| 2010-08-29 - Sessions update.txt
......| ......| 2010-09-01 - IRISH SESSION IN THE BEAR FAVERSHAM THIS FRIDAY 3rd.htm
......| English
......| ......| 2009-05-21 - Bell + Jorrocks sessions go regular.htm
......| ......| Doddington Music Session.htm
......| ......| SEFAN_2007-11-27_02.ANOUNCE. Lewes Favourites sessions 2008 supplement books.htm
......| European
......| ......| 2009-06-12 - New French session Bekesbourne Sunday July 5th.htm
......| Jazz
......| ......| Hot Club Jazz - session - at St Julians Sevenoaks.htm
......| Mixed
......| ......| 2010-08-23 - Tartar Frigate session.htm
......| ......| Woodshed session - Tune + song list .htm
......| Monthly Session list.html
......| Oldtime
......| ......| 2010-01-06 - Old time session.htm
......| ......| 2010-02-02 - session.htm
......| What tunes do they play at the different sessions.txt
Sing-Arounds
......| 2010-04-04 - Sing-arounds in Maidstone.htm
......| 2010-05-19 - Folk at The Foresters.htm
......| Folk Sing Around at the Chequers, Ash.txt
......| Monthly Sing-Around list.txt
......| Tenterden Folk Club at The Woolpack.htm
Tours + Newsletters
......| 2010-08-02 - FLOOK NEWS.htm
Venues
......| Anchor Inn - Littlebourne
......| Astor Theatre
......| Barge - Gillingham
......| ......| 2010-08-26 - Monthly Gig List (September 2010).txt
......| Barnaby Rudge - Broadstairs
......| Beer Cart Arms
......| Belgian Cafe - Ramsgate
......| Bottleneck Blues
......| Caseys
......| Central Theatre - Chatham
......| ......| 2010-08-23 - Jack and the Beanstalk at The Central Theatre.htm
......| Cullins Yard
......| Dove at Dargate
......| Evenhill - Littlebourne
......| Folk in the Barn
......| ......| 2010-08-17 - Can we have Summer back please!.txt
......| ......| Folk in the Barn - Contacts for tickets.txt
......| ......| New Payment option.txt
......| Folkus - Medway
......| Gulbenkian
......| ......| 2010-07-20 - Autumn Season 2010 - Gulbenkian.htm
......| ......| 2010-08-06 -The Gulbenkian - Music Listings on Kent Folk.htm
......| ......| 2010-09-01 - Get ready to rock....htm
......| Hook and Hatchet - Hucking
......| HorseBridge - Whitstable
......| Louis Armstrong - Dover
......| Man of Kent Alehouse - Rochester
......| Marlow
......| New Venues
......| Orange Street
......| Parrot - Canterbury
......| Pizza Express
......| Rose + Crown - Canterbury
......| Soul Cafe Maistone
......| The Chambers - Folkestone
......| Three Mariners at Oare
......| Trinity Theatre
......| Wrotham Arms - Broadstairs
......| Yew Tree
......| ......| 2010-02-15 - Yew Tree boarded up.htm
Web info
......| Google
......| ......| Google Advertising.html
......| ......| Google Calendars.html
......| Group and Musician web-sites
......| ......| 2008-12-05 - Cellar Upstairs new website.txt
......| ......| 2010-01-30 - A number of Kentish groups also have web pages on Team-KentFolk - add yours.txt
......| ......| 2010-01-30 - Florida web site, also on Team-KentFolk.txt
......| KentFolk How-Tos
......| ......| Having images, photos, posters and flyers in emails for the web.htm
......| ......| How to send event items for the KentFolk Calendars.html
......| ......| How to send news items for the KentFolk News pages.html
Workshops
......| 2009-01-25 - Lewes Saturday Folk Club - new web-site + workshop details .htm
......| 2010-08-12 -hurdy-gurdy day - Ramsgate.htm


---
---
---