---
KentFolk News

July 2009

Well then my lap-top screen quit while I was away, and my email server died for more than the first week of July - still missing a week's worth of emails.
I will let you know when things stabilise, and if you need to re-send to me ....
Oh and the initial July News appears to have failed - now corrected ....
Ah well ....
---
2009-07-21 - New Sunday Open Mic Night at The Sondes Arms, Selling
---
If you are looking for Celtic Sessions, Shelagh writes :
The Irish session continues at the The George Inn Molash every wednesday from 8pm and
2nd Sunday of the month at The Unicorn Bekesbourne 8pm and
The last Sunday of each month at The Ship Ospringe Faversham
.....
Also Friday 4th September Faversham Hop Festival Weekend we are hoping for an IRISH SESSION in the Bear Inn Market Place Faversham 9pm onwards....
more (re: Wednesday 15th) :
Hi chaps Good news Serena the Violin will be returning to the vicinity to collect her well earned degree on Wednesday next and so will be attending the session at Molash .. We are all very much looking forward to this ....
And what a pleasant evening it was - a good turn-out inspite of a few players not being able to come, and an evening of both old favourite tunes and a number of really good ones that I did not know :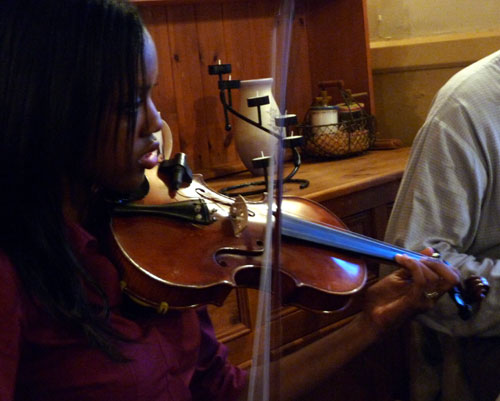 ---
While my lap-top was away and I had no email access, I had a browse through the latest offerings from Google, and ended up building a KentFolk iGoogle Gadget that you might find useful if you have an iGoogle home page :
Want rapid access to info on the Kentish music scene ?
Add "KentFolk.com for Live Music in Kent" to your iGoogle page.
Click on the [+Google] button to add this KentFolk Gadget to your iGoogle homepage.
It will help take you into the depths of the KentFolk site, hopefully directly to the pages most relevant to your interests.
Scroll down on the Gadget to see the latest news item high-lights, without even having to leave your iGoogle home page.
---
It grieves me how little classical guitar makes its way onto KentFolk - I am not sure if it is because it is not happenning or if I just don't get sent it - perhaps a 'branding' perception problem ...
Well I came across the World Youth Guitar Festival 2009 last weekend.
If you know any lad or lass that might be interested, please point them to this : Donít miss out on your last chance to enter the WYGF09 Guitar Competition in association with Trinity Guildhall .
They already have some excellent entries which can be viewed on their own WYGFTV channel on YouTube - here is one rendering of "Cycles in the Avenue" :
---
Multi-level directories of News :
Do keep sending me items for both the calendar and this news section -
Please see the info at the bottom of the news pages for guidance as to good formats to send me news items for these pages, and for event listings for the calendars.
cheers, Beau.
---

Adverts
CDs, MP3 music, Video, Radio, Lyrics + Verse
......| 2009-07-07 - Guide Cats for the Blind vol. 4 - Out This Month.htm
......| 2009-07-14 - Kent songbook launch poster.pdf
......| Acoustic Sussex Newsletter 2009-07-22 - MeridianFM gets go-ahead.htm
......| Kentish Hops - Book and CD.htm
......| Kentish musician's MP3 Tracks and Digital Albums for sale at eFolkMusic.html
......| SEFAN 2009-07-14_02 Kent Songbook launch.htm
......| SEFAN 2009-07-22_03 From dots to downloads.htm
......| Simon Evans - BBC Radio Kent - listen at any time.html
Festivals
......| Broadstairs Folk Week
......| ......| 2009-07-30 - Bluegrass+ Old-time - Correction + BFW info.htm
......| ......| 2009-08-03 - Earthpoem at Broadstairs - 13th Aug. 2009.htm
......| Canterbury Festival
......| Deal Festival of Music and the Arts
......| Deal Maritime Festival
......| ......| 2009-08-03 - Kent Folk Calendar - Folk Festival.txt
......| ......| Deal LifeBoat House shanty singing - 2003 - MP3 downloads available.txt
......| Faversham Hop Festival
......| KentFolk Fiddlers Various Festival
......| ......| 2009-02-02 - Tommy Peoples - Lewes and Littlebourne - September 2009.htm
......| Other Kentish Festivals
......| ......| 2009-06-30 - Wicked poster 29 Aug 2009.mht
......| ......| 2009-06-30 - WickedBrew Festival.htm
......| ......| 2009-07-14 - Wicked poster 29 Aug20 09 artistes2.mht
......| ......| 2009-07-27 - Herne Pay - Chris Taylor's Allstars 1st Aug. 2009.htm
......| ......| 2009-07-28 - MORTIMER STREET MUSIC DAY 1st Aug. 3009Programme.htm
......| ......| 2009-08-03 - ASH FOLK AND BEER FEST - 31st Aug. 2009.htm
......| ......| SEFAN 2009-05-26_01 SEVENOAKS SUMMER FESTIVAL - FolkWorldBlues events.htm
......| ......| SEFAN 2009-07-08-03 Equator brings Latin and Indian flavour to Ashford Carnival.htm
......| Rochester Sweeps Festival
......| Tenterden Festival
......| ......| 2009-01-28 - Advertise in our successful 2009 souvenir programme at 2008 prices!.htm
......| ......| 2009-03-19 - Good news for Tenterden Folk Festival.htm
......| ......| 2009-06-04 - TFF09 update.htm
......| ......| 2009-07-14 - Tenterden Folk Festival procession.htm
......| UK National Festivals
......| ......| 2009-04-26 - Fiddle Fest Wales - new look website .txt
......| ......| Cleckheaton Folk Festival.txt
......| ......| SEFAN 2009-07-08_02 Towersey weekend ticket for sale.htm
......| Wye Fayre
Folk Clubs
......| 2009-04-07 - The Fox And Hounds - stopping.htm
......| 2009-07-22 - CRABBLE FOLK SUPPER - 31 JULY 2009.txt
......| 2009-07-28 - New folk club - Boughton Monchelsea.htm
......| Deal Friday Folk Club
......| Egerton Folk Club.htm
......| Faversham Folk Club
......| ......| 2009-06-08 - Faversham Folk Club - July August listing.txt
......| Folk at the Drum
......| ......| 2009-01-23 - Folk at the Drum - GUESTS FEB TO JUN 09.htm
......| ......| 2009-06-23 - FATD 25 JUN 09 - GUEST NIGHT - ANN SARTAIN ALAN WHEELER.htm
......| ......| 2009-06-23 - GUEST AND CLUB NIGHTS JUL - NOV 09.mht
......| ......| 2009-06-23 - GUESTS JUL - NOV 09 GUESTS 2010 CHRISTMAS DINNER.htm
......| ......| 2009-07-03 - GUEST AND CLUB NIGHTS JUL - NOV 09.mht
......| Monthly_Folk-Club_list.html
......| Tenterden Folk Club at The Woolpack.htm
......| Walthamstow Folk Club
......| Whitstable Folk Club
......| ......| 2008-12-23 - Whitstable folk club.txt
......| ......| 2009-02-11 - Find Whitstable Folk Club on Team.KentFolk.htm
Jobs, Auditions, Funding + Licencing
......| 2008-12-29 - The Licensing Act 2003 is destroying live music in Kent.html
......| 2009-01-19 - The Publican - Home - Pubs closing at rate of 39 per week.htm
......| 2009-01-20 - Licensing enquiry - Loss of live music - our ref +++570.txt
......| 2009-07-14 - Music for Change Artists' Course 27th-31st July - last few places remaining..htm
......| 2009-07-28 - SCoFFnews Petition to No 10.htm
......| 2009-08-03 - LIVE MUSIC LICENSING.htm
......| GigList_DateCount.pdf
......| Public Entertainment Licensing Act (2003) - prior news items.txt
......| SEFAN 2008-03-24_03 IMPORTANT Certificate of Sponsorship (CoS).htm
......| SEFAN 2009-07-10_03 The Event Safety Guide (The Purple Guide).htm
......| SEFAN 2009-07-15_02 Fwd from T.Mason GRANTS .htm
......| SEFAN 2009-07-16_01 GLEANINGS (a) ACE.htm
......| SEFAN 2009-07-16_02 GLEANINGS(b) VAE 2 items re overseas performers.htm
......| SEFAN 2009-07-27_03 GLEANINGS ARTSjobsnews VAE Youth Music.htm
......| SEFAN 2009-07-29_01 CALLOUTS Bands Aug Sept (various - 2 outside patch).htm
......| The Licensing Act 2003 is destroying live music in Kent.html
Keeping Live Music Alive
......| 00 - 2009-01-22 - Keeping the Live Music Alive.htm
......| 01 - 2008-12-29 - The Licensing Act 2003 is destroying live music in Kent.html
......| 02 - 2008-12-29 - GigList_DateCount.pdf
......| 19 - SEFAN 2008-12-03_03 actionformusic Form 696 - E Petition.htm
......| 2009-01-20 - Licensing enquiry - Loss of live music - our ref +++570.txt
......| 2009-02-07 - Governments proposed - Code of Practise - for pubs.htm
......| 2009-03-28 - RE How to get more live music in the pubs ! Kentish Gazette, 26th March 2009.htm
......| 2009-07-20 - RT-B update.htm
......| 2009-07-28 - SCoFFnews Petition to No 10.htm
......| Lifts - needed, offered
......| ......| 2009-02-16 - lift needed - Deal or Dover to the Drum, North Stansted, any Thursday.txt
Music + Dance Genres
......| BlueGrass
......| ......| 2009-06-29 - My Swan Song....Bluegrass MORE.htm
......| ......| 2009-07-03 - South East England Bluegrass + Old-Time Music .htm
......| ......| 2009-07-09 - South East England Bluegrass + Old-Time Music .htm
......| ......| 2009-07-13 - A note from the Scottish Bluegrass Association.htm
......| ......| 2009-07-14 - BLUEGRASS + MORE......ISSUE1 July 2009.htm
......| ......| 2009-07-17 - South East England Bluegrass + Old-Time Music .htm
......| ......| 2009-07-23 - South East England Bluegrass + Old-Time Music.htm
......| ......| 2009-07-24 - Bluegrass+Old-time - correction.htm
......| ......| 2009-07-25 - Bluegrass - correction #2.htm
......| ......| 2009-07-29 - South East England Bluegrass + Old-Time Music .htm
......| ......| 2009-07-30 - Bluegrass+ Old-time - Correction + BFW info.htm
......| ......| SEFAN 2009-07-24_01 EVENT (1 post) BluegrassOld-time tonight.htm
......| Blues
......| ......| 2009-07-15 - Bottleneck Blues Club.htm
......| ......| 2009-07-16 - Broadstairs Summer Blues - August 2009.htm
......| ......| 2009-08-03 - Bottleneck Blues Club.htm
......| Cajun
......| ......| 2009-07-27 - Cajun zydeco comin' up!.htm
......| ......| 2009-08-03 - Cajun Dawgs at Gillingham - update.htm
......| ......| Appalachian Clogging, Cajun + Zydeco Dance Workshops 2009 - Chatham.html
......| ......| Cajun + Zydeco Dance Workshops 2009 - Whitstable.html
......| ......| Cajun Barn back in Eltham!!!.htm
......| ......| Cajun website and email list.html
......| Celtic
......| ......| 2009-05-03 - Adrian O - Eastry Local RSPB Benefit Concert 27th JUNE.htm
......| ......| 2009-06-11 - gig dates for 'selkie'.htm
......| ......| 2009-06-26 - All Britain Fleadh this w'end Sunday sessions in July Aug Tommy Peoples 11 Sept.htm
......| ......| 2009-07-09 - Camine Trio at Lounge On The Farm Fri 10th July Farm Folk Stage 4pm plus gig list....htm
......| ......| 2009-07-13 - Wednesday Next Plus.txt
......| ......| Monthly Session list.html
......| ......| SEFAN 2009-07-17_01 EVENT (1 post) .htm
......| Dance, Ceilidhs, Barn Dances
......| ......| Dance School in Maidstone.htm
......| ......| Kentish Hops - Book and CD - Dances.htm
......| ......| SEFAN 2009-07-17_01 EVENT (1 post) .htm
......| Folk
......| ......| 2009-07-01 - Ron Trueman-Border and Perfect Strangers up-date.htm
......| ......| 2009-07-06 - Live on the border - music in West Kent and beyond!.htm
......| ......| 2009-07-07 - JOHNNY COLLINS.htm
......| ......| 2009-07-08 - folk camp - Sandwich - Aug 2009.htm
......| ......| 2009-07-17 - Edenbridge music - July, Aug 2009.htm
......| ......| 2009-07-20 - RT-B update.htm
......| ......| 2009-07-20 - Chris Taylor's Allstars.htm
......| ......| 2009-07-20 - Feast Of Fiddles.txt
......| ......| 2009-07-22 - Oysternews July + August 2009.htm
......| ......| 2009-08-03 - SCoFFnews Johnny Collins funeral.htm
......| ......| R2009-08-03 - on Trueman-Border up-date.htm
......| ......| Raglan Road.htm
......| ......| Ratalaz - eFolkMusic.txt
......| Gypsy + Romany
......| ......| 2009-06-09 - Le QuecumBar concerts gigs June July August September.htm
......| ......| 2009-07-15 - Summer events.htm
......| ......| 2009-07-17 - 1 Le QuecumBar gig list July August September - 2 new cd from Le Q Records .htm
......| ......| 2009-07-21 - Amendment to Le QuecumBar gig list September .htm
......| ......| 2009-07-23 - le Quecumbar amended September gig .htm
......| ......| 2009-07-30 - Waterhorse in Ramsgate - 8th Aug. 2009 .htm
......| ......| London Gypsy Orchestra Musicians.htm
......| ......| Romany music.html
......| Jazz
......| ......| 2009-07-30 - Trad Jaz on Sundays - Monks Horton .txt
......| ......| Hot Club Jazz at St Julians Sevenoaks.htm
......| ......| Open Mic Jazz Singers Night.htm
......| Les Batons, European + EuroCelt
......| ......| 2009-05-18 - Twilight Folk Club - to Nov.txt
......| ......| 2009-06-17 - Music notation web site - French + English tunes.txt
......| ......| 2009-06-24 - Pique-nique - event in Kent - 3rd Oct 2009.htm
......| ......| 2009-06-30 - Balkan Music ZiG live and workshop - July, Sept.htm
......| ......| Monthly Session list.html
......| ......| Relig Oran mp3 downloads from eFolkMusic.txt
......| Maritime
......| ......| CONTINUATION OF THE SHANTY CREW.htm
......| ......| Deal LifeBoat House shanty singing - 2003 - MP3 downloads from KentFolk and eFolkMusic.txt
......| ......| The maritime tradition.htm
......| Morris, Mumming, Hoodening + Bell ringing
......| ......| 2009-07-29 - SCoFFnews MORRIS A LIFE WITH BELLS ON.htm
......| ......| 2009-07-29 - Woodchurch Morris Men.htm
......| ......| 2009-08-03 - SCoFFnews Morris A Life with Bells On.htm
......| Roots + World
......| ......| 2009-07-03 - Zinta And The Zoots@ The Coach Horses Whitstable this Sat 4th July + LOUNGE ON THE FARM FESTIVAL FRI 10TH JULY .htm
......| ......| 2009-07-17 - Zinta The Zoots - Sat 18th Jul The Neptune..Sun 19th Jul Caseys..Herne Bay Street Fest Aug 1st.htm
......| ......| 2009-07-21 - Harvey Miller - You A Star.htm
......| ......| 2009-08-03 - Hitt Breaka Djs - They Be Choosing.htm
......| Song, choirs
......| ......| 2009-05-13 - SUMMER CHOIR CAMP BOOK NOW 19th-21st June Day passes also available.htm
......| ......| SEFAN 2009-06-22_01 EVENT Choirfest Sept 2009!.htm
Musicians + Links
......| 2008-11-05 - Kai Tonjes instruments - New workshop.htm
......| 2008-12-22 - High Weald Ridge - Bluegrass.txt
......| 2008-12-28 - porch swing blues gig list.htm
......| 2009-04-29 - Link Exchange Request.txt
......| 2009-07-29 - Tony Lesurf (drums,Bodhran & backing vocals).htm
......| Graham Corbould - singer-songwriter.htm
......| Phil Thorne -acoustic country blues .htm
......| Tony Cox - virtuoso guitarist.htm
Open Stage
......| 2009-05-25 - Two new open stages.txt
......| 2009-07-21 - Sunday Open Mic Night at The Sondes Arms, Selling.htm
......| 2009-07-21 - Sunday Open Mic Night at The Sondes Arms, Selling.pdf
......| 2009-07-23 - Open Stage info update fron CJ.htm
......| CJ's open mic nights.txt
......| Jack Pound's Open Stage.txt
......| Monthly Open Stage list.txt
......| Open Mic Nights - Chislehurst - hosted by the Missouri Gutts.htm
......| Open Stage - Phil for cj.htm
......| SEFAN 2008-04-02_02. Open Mike at The Pig Butcher (formanlly The Fireman's).htm
Organisations
......| Ariel Publicity
......| ......| 2009-07-15 - Cyber PR is Expanding! - Authors Filmakers!.htm
......| ......| 2009-07-22 - Podsafe Songs of Love Hope from Iran.htm
......| ......| 2009-07-29 - Marvel Comics Voiceover Artist Creates Podsafe Childrens CD!.htm
......| EFDSS
......| ......| 2009-07-17 - EFDSS Autumn Concert Dates Announced.mht
......| ......| 2009-07-17 - Press Release EFDSS Announces Autumn Concert Dates.htm
......| ......| SEFAN 2009-06-23_01 July at Cecil Sharp House and beyond.htm
......| ......| SEFAN 2009-07_19_02 EFDSS Autumn Concert Dates Announced.htm
......| efolkMusic
......| ......| 2009-07-16 - efolkMusic News Vol 9-11.htm
......| ......| 2009-08-03 - Mission Acomplished Not yet....htm
......| FAE - Folk Arts Network
......| Indie Contact
......| KentGigs.com
......| Making Music
......| ......| SEFAN 2009-07_19_01 Making Music Board and CPC - Call for nominations by July 31st.htm
......| Mrs Casey Music
......| ......| 2009-07-27 - Inspired by Sandy Denny.htm
......| Music for Change
......| ......| 2009-06-02 - 5 Day Summer Course for Artists in Education.htm
......| ......| 2009-06-04 - Summer Dance Workshop in Goa.htm
......| ......| 2009-06-16 - MfC Global Newsletter-Summer 2009.htm
......| ......| 2009-07-10 - A Singing History of Kent - Launch.htm
......| ......| 2009-07-14 - Music for Change Artists' Course 27th-31st July - last few places remaining..htm
......| NetRhythms
......| ......| 2009-07-10 - NetRhythms - Songwriters' New CDs + Tour Dates .txt
......| ......| 2009-07-27 - Let NetRhythms entertain you!.txt
......| SCoFF
......| ......| 2009-07-29 - SCoFFnews Tommy Peoples 11-13 Sept in SE.htm
......| SEFAN
......| ......| SEFAN 2009-07-09_02 ANNOUNCEMENTS from the membership.htm
......| ......| SEFAN 2009-07-10_01 News from World Sacred Music Festival.htm
......| ......| SEFAN 2009-07-10_02 Johnny Collins.htm
......| ......| SEFAN 2009-07-27_02 Tommy Peoples - Fiddlers Various 2009 - Littlebourne.htm
......| Smithsonian
......| ......| 2009-08-03 - Smithsonian Global Sound Newsletter Save 20% on New Folkways T-Shirts.htm
......| VAE - Voluntary Arts England
......| WeGotTickets
......| ......| 2009-07-03 - WeGotTickets for Jeffrey Lewis Shappi Khorsandi The Zombies Noisettes Little Boots more.htm
......| ......| 2009-07-24 - WeGotTickets for Gallows Handsome Family HEALTH Los Campesinos NME Radar Tour more.htm
......| ......| WeGotTickets for 2009-07-17 - Daniel Johnston Final Fantasy The Pastels Darren Hayman Edinburgh Previews.htm
Regional
......| Americas
......| ......| 2009-07-14 - Music News Nashville July 13.txt
......| ......| 2009-07-20 - Music News Nashville July 20.txt
......| ......| 2009-07-27 - Music News Nashville July 27.txt
......| ......| 2009-08-03 - Music News Nashville August 3.txt
......| Essex
......| Europe
......| Hampshire
......| Ireland
......| ......| 2009-06-11 - Frank Harte Festival 2009 - Brochure.pdf
......| ......| 2009-07-06 - Journal Of Music Newsletter.htm
......| Kent
......| ......| 2009-03-20 - State of play in Canterbury pubs.html
......| ......| 2009-06-22 - News and Gigs Wotson - 5th July to 11th July 2009 - Kent E Sussex Gig Guide.htm
......| ......| 2009-06-29 - News and Gigs Wotson - 12h July to 18th July 2009 - Kent E Sussex Gig Guide.htm
......| ......| 2009-07-07 - News and Gigs Wotson - 19th July to 25th July 2009 - Kent E Sussex Gig Guide.htm
......| ......| 2009-07-14 - News and Gigs Wotson - 26th July to 1st August 2009 - Kent E Sussex Gig Guide.htm
......| ......| 2009-07-20 - News and Gigs Wotson - 2nd August to 8th August 2009 - Kent E Sussex Gig Guide.htm
......| ......| 2009-07-28 - News and Gigs Wotson - 9th August to 15th August 2009 - Kent E Sussex Gig Guide.htm
......| ......| Folkestone + Hythe
......| ......| ......| Folkestone + Hythe - News + Events.htm
......| ......| West Kent
......| ......| ......| 2009-07-07 - Live on the border - music in West Kent and beyond!.htm
......| ......| ......| 2009-07-14 - West Kent - News Events .htm
......| ......| ......| 2009-07-14 - West Kent - News + Events.htm
......| London
......| ......| 2009-06-09 - Le QuecumBar concerts gigs June July August September.htm
......| ......| 2009-07-13 - July 15th Bob Davenport and other events READY.htm
......| ......| 2009-07-14 - Summer klezmer - including special dance music workshop this Sunday.htm
......| ......| 2009-07-15 - Summer events.htm
......| ......| 2009-07-16 - LoveBox + Arnold Circus + More!.htm
......| ......| 2009-07-17 - 1 Le QuecumBar gig list July August September - 2 new cd from Le Q Records .htm
......| ......| 2009-07-20 - Musicians bike ride for Cancer Charity - Sun 2 Aug sess at LIC - RtCT preview events leaflets avail..htm
......| ......| 2009-07-21 - Amendment to Le QuecumBar gig list September .htm
......| ......| 2009-07-23 - le Quecumbar amended September gig .htm
......| ......| 2009-07-28 - Magpie's Nest - Summer Party - Wednesday 29th July.htm
......| ......| 2009-08-03 - Pizza on the Park; Discount tickets.htm
......| ......| SEFAN 2009-05-26_02 EFDSS - What's on JuneJuly. London.htm
......| S.E. England
......| ......| SEFAN 2009-07-01_03 Making Music website and news.htm
......| ......| SEFAN 2009-07-12_01 EVENTS and Upcoming. (3 posts).htm
......| ......| SEFAN 2009-07-13_03 EVENTS (2 posts) Surrey and Sussex.htm
......| ......| SEFAN 2009-07-22_01 EVENTS (2 posts) Surrey + Sussex.htm
......| ......| SEFAN 2009-07-24_01 EVENT Summer Ceilidh in Rottingdean CANCELLED.htm
......| ......| SEFAN 2009-08-03_01 EVENTS (2 posts) Sussex and Surrey.htm
......| Scotland
......| Suffolk
......| Surrey
......| ......| SEFAN 2009-07-14_01 Folk Music at The Hawth.htm
......| Sussex
......| ......| 2009-06-24 - SCoFFnews - Leon venue change 1 July.htm
......| ......| 2009-06-30 - EIGHT ITEMS OF FOLK MUSIC NEWS FROM LEWES FOR JULY.txt
......| ......| 2009-07-10 - Hailsham - Booking Opens Tuesday 14th July - Four New Shows.htm
......| ......| 2009-07-28 - SCoFFnews Lewes Saturday Folk Club.htm
......| ......| Acoustic Sussex Newsletter 2009-07-02.htm
......| ......| Acoustic Sussex Newsletter 2009-07-08 - Folk Roots Acoustic radio.htm
......| ......| Acoustic Sussex Newsletter 2009-07-11.htm
......| ......| Acoustic Sussex Newsletter 2009-07-17.htm
......| ......| Acoustic Sussex Newsletter 2009-07-20 Special guest joins tonight's bill.htm
......| ......| Acoustic Sussex Newsletter 2009-07-22 - MeridianFM gets go-ahead.htm
......| ......| SEFAN 2009-07-12_02 Brighton Early Music Festival 2009 .htm
......| ......| SEFAN 2009-07-13_01 CALL OUT Wedding Ceilidh Band December Sussex.htm
......| ......| SEFAN 2009-07-21_01 EVENT (1 post) Second Sunday Sussex.htm
......| ......| SEFAN 2009-07-27_01 Lammas 2009 press release.htm
......| ......| SEFAN 2009-07-30_02 Lewes Saturday Folk Club in August + September.htm
......| UK National
......| ......| 2009-01-05 - Off The Tracks Festivals - Tickets onsale Now ....htm
......| World
Sessions
......| A plea for new players at traditional sessions - particularly younger players.html
......| Broadstairs woodshed session - Wrotham Arms - 2007-11-23.htm
......| Celtic
......| ......| 2009-07-10 - Session update.htm
......| ......| 2009-07-13 - Wednesday Next Plus.htm
......| ......| 2009-07-16 - Last night's session with Serena - couple of photos and a video.htm
......| English
......| ......| 2009-05-21 - Bell + Jorrocks sessions go regular.htm
......| ......| 2009-07-09 - Advance notice B+J session on the evening of the 16 August with Jody Kruskal!.htm
......| ......| Doddington Music Session.htm
......| ......| SEFAN_2007-11-27_02.ANOUNCE. Lewes Favourites sessions 2008 supplement books.htm
......| European
......| ......| 2009-06-12 - New French session Bekesbourne Sunday July 5th.htm
......| Jazz
......| ......| Hot Club Jazz - session - at St Julians Sevenoaks.htm
......| Mixed
......| ......| 2009-06-07 - Curtailment of Tilmanstone session.htm
......| ......| Woodshed session - Tune + song list .htm
......| Monthly Session list.html
......| What tunes do they play at the different sessions.txt
Sing-Arounds
......| 2009-06-24 - Foresters News.htm
......| 2009-07-18 - Foresters Monday.htm
......| 2009-07-29 - Forresters - Another Good Night.htm
......| Folk Sing Around at the Chequers, Ash.txt
......| Monthly Sing-Around list.txt
......| Tenterden Folk Club at The Woolpack.htm
Tours + Newsletters
......| 2009-07-14 - Foxy Music - Roster Touring Periods.htm
......| 2009-07-20 - Le trio perdu.htm
......| 2009-07-20 - Feast Of Fiddles.txt
......| 2009-07-22 - Foxy Music Angie Palmer.htm
Venues
......| Anchor Inn - Littlebourne
......| Astor Theatre
......| Barge - Gillingham
......| ......| 2009-06-25 - Monthly Gig List (July 2009).txt
......| ......| 2009-07-10 - Updates for July + August 2009.txt
......| ......| 2009-07-16 - Rake of Rochester on 5 th october 2009.htm
......| ......| 2009-07-26 - Monthly Gig List - August + Sept. 2009.txt
......| Barnaby Rudge - Broadstairs
......| Beer Cart Arms
......| Bottleneck Blues
......| ......| 2009-06-23 - Bottleneck Blues Club. SOLD OUT!.htm
......| ......| 2009-07-15 - Bottleneck Blues Club.htm
......| ......| 2009-08-03 - Bottleneck Blues Club.htm
......| Caseys
......| Central Theatre - Chatham
......| ......| 2009-07-10 - Just announced - Lee Mack live at The Central Theatre - Jan 2010.htm
......| Cullins Yard
......| Dove at Dargate
......| Evenhill - Littlebourne
......| Folk in the Barn
......| ......| 2009-05-21 - What a weekend!.txt
......| ......| 2009-06-17 - Oh what a Knight!.txt
......| ......| 2009-06-18 - Gigspanner Review.txt
......| ......| 2009-07-17 - Folk on the Minnis.txt
......| ......| 22009-05-28 - New Payment option.txt
......| ......| Folk in the Barn - Contacts for tickets.txt
......| Folkus - Medway
......| Gulbenkian
......| ......| 2009-02-23 - Open Mic Jazz singers - Gulbenkian.htm
......| ......| Canterbury Acoustic.txt
......| Hook and Hatchet - Hucking
......| ......| 2009-07-22 - Hook and hatchet.txt
......| HorseBridge - Whitstable
......| Man of Kent Alehouse - Rochester
......| New Venues
......| ......| 2009-04-22 - Chris Smith from The Chambers in Folkestone Kent Ref New open mic night.htm
......| Orange Street
......| ......| 2009-02-23a - MARTIN CARTHYTHE OWL SERVICE LIVE IN CANTERBURY NOV 2009.htm
......| ......| 2009-03-05 - Martin Carthy tickets - 21st Nov 2009.htm
......| ......| 2009-07-06 - TWILIGHT FOLK PRESENTS-THE LEISURE SOCIETY and CIRCULUS live at ORANGE STREET MUSIC CLUB..htm
......| Pizza Express
......| Rose + Crown - Canterbury
......| ......| Live Music Gigs at the Rose and Crown Canterbury.txt
......| Soul Cafe Maistone
......| The Chambers - Folkestone
......| ......| 2009-05-21 - Chris Smith from The Chambers in Folkestone Kent - Gig Listings.htm
......| ......| 2009-05-21 - Chris Smith from The Chambers in Folkestone Kent - New open mic night.htm
......| Three Mariners at Oare
......| Trinity Theatre
......| Wrotham Arms - Broadstairs
......| ......| 2009-05-19 - Wrotham Arms gig-list - spring to autumn 2009.txt
......| ......| 2009-07-01 - Wrotham Arms gig-list - Aug 2009.txt
......| ......| 2009-07-01 - Wrotham Arms giglist - Aug 2009.txt
......| Yew Tree
......| ......| 2009-03-04 - No Sunday music at the Yew Tree.txt
Web info
......| 2009-06-06 - Find British bands musicians and music related businesses..htm
......| David Hooper
......| Google
......| ......| Google Advertising.html
......| ......| Google Calendars.html
......| Group and Musician web-sites
......| ......| 2008-12-05 - Cellar Upstairs new website.txt
......| KentFolk How-Tos
......| ......| Having images, photos, posters and flyers in emails for the web.htm
......| ......| How to send event items for the KentFolk Calendars.html
......| ......| How to send news items for the KentFolk News pages.html
Workshops
......| 2009-01-25 - Lewes Saturday Folk Club - new web-site + workshop details .htm
......| 2009-02-02 - Tommy Peoples - Lewes and Littlebourne - September 2009.htm
......| 2009-07-28 - SCoFFnews - Lewes Saturday Folk Club.htm
......| Music Workshops in Medway.txt
......| SEFAN 2009-06-16_02 Tommy Peoples fiddle workshop evening performance Lewes 12th Sept.htm
......| Tommy Peoples in 2009.htm


---
---
---