---
KentFolk News

October 2007
Hi,
Laptop software and email problems, so sorry for KentFolk being delayed. The research has also got behind, and that has had to take priority. But doing a calendar, and here is some news - much more waiting in the pipeline to come.
---
Festivals :
Well, we have just had the Tenterden festival, which was going swingingly on the day that KentFolk paid a visit (particularly enjoying the Morena Slovak Dancers), and the Canterbury Festival is now upon us, with some excellent offerings for a range of the KentFolk genres, as well as classical music : www.canterburyfestival.co.uk/
or, (a few highlights) : www.bbc.co.uk/kent/content/articles/2007/08/22/canterburyfestival_feature.shtml
The first week of this festival has been one of the best to date :
Martin Simpson in the Festival Club on Monday 15th gave an excellent evening showing how to get more from a guitar than most are able to do,
The next night in the Festival Club Gundula Gruen and Zig gave a wonderful insight into the Gypsy and East European fiddle, full of infectious delight.
On the Wednesday only part of KentFolk was able to get to Quadlibet in Barham Court - "Dangerous Candelight" - a brilliantly conceived evening.
Thursday, again in the Fest' Club, Malinky (mainly Scottish) were a delight, with a set composed of tunes and songs that were all completely fresh to us - not a common experience these days.
Altan in the Gulbenkian in the Saturday showed that the reputation that went before them in the Celtic world was fully justified; the contrasting styles of the two fiddlers was pure pleasure.
And Sunday saw local heros Waterhorse give a very convincing performance to a packed Fest' Club of supporters as well as to those new to them. An evening that was a farewell to their old fiddler, and a hello to the new, both of whom gave excellent accounts of their capabilities.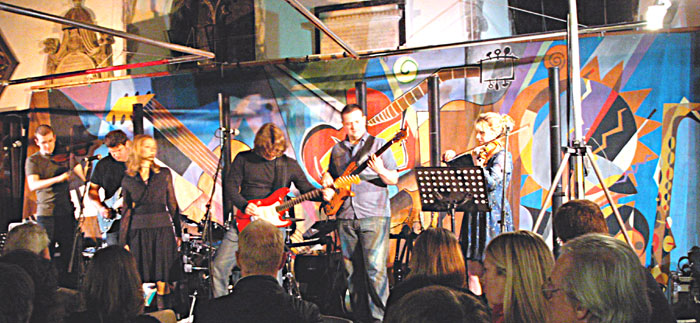 Waterhorse - Canterbury Festival 2007 - hi-res
So a week to go, with Seth Lakeman, a Cajun dance, and Fluke still to come....

---
Well Seth gave a high-energy performance that was well appreciate by his many fans, who were up and dancing - but for us Cajun dancers it was an inspired performance by the Hackney Ramblers that set us alight the following night - with every remaining chink of free floor occupied by the majority of the audience dancing every possible dance style to the music - top quality dancing music from all the Ramblers, but particulary from Alan on fiddle and vocals (not an easy combination, as Chris Wood once said to me).
And for the final night of the fest, Fluke gave the brilliant performance we have come to expect of them, with both old favorites and tracks off their latest CD.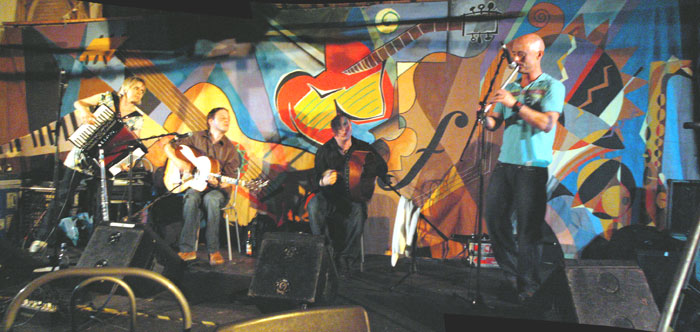 Fluke - Canterbury Festival 2007 - hi-res
An excellent festival !

---
KentFolk events : Advance info for 2008 : Yves Langlois the Cajun fiddler/songster (and guitar / lap slide guitar player) has now left Kent with Karen and new babe to return to live in France, but on present plans they will be paying a visit to Kent next May, with a Cajun Dance in Littlbourne Thatched Barn on the 25th May 2008.
And Laura Targett has emailed me from Australia, where she plays on the Celtic circuit, to say she hopes to be also paying a visit to Kent next May or June, so something will happen for that as well. See www.KentFolk.com/FiddlersVarious/ for previous events with Laura.

If I were to do a Fiddlers Various in 2009 - what fiddle genres would you like it to cover ? - answers to Beau@KentFolk.com
---
Selling individual MP3 tracks over the web :
For some time KentFolk has been using PayPal to sell local musician's CDs. A new technology that I have wanted for some time, is now in place: - KentFolk can now sell individual MP3 tracks, either directly from the KentFolk web pages, with paynent by CC or PayPal, or via the highly respected eFolkMusic in the USA.
If you are a band that would like to sell your tracks over the web, and of course this is particularly good for both CDs that have all sold out, as well as new tracks that are not yet on a CD, then please email me : Beau@KentFolk.com
I am limited in my time available to "turn the handle" on these, but will do what I can. As a preliminary offering, the 2003 Deal LifeBoat House shanty recording now has a few tracks on the web - all net profit to the NLRI, after the CC/PayPal deductions.
---
Multi-level directories of News :
Do keep sending me news and items for both the calendar and this news section -
Please see the info at the bottom of the news pages for guidance as to good formats to send me news items for these pages, and for event listings for the calendars.
cheers, Beau.
---

Adverts
......| George Stevens - Luthier.htm
CDs, MP3 music, Videos, Lyrics + Verse
......| Children In Need - Beggin' Bowl.htm
......| Deal LifeBoat House shanty singing - 2003 - MP3 downloads available.txt
......| eFolkMusic - Free DigiSampler Vol 3.htm
......| FLOOK NEWS.htm
......| Jack Pound - Nomad Jack's.txt
......| New Releases Inverness Concert Trad Music Awards.htm
......| New Releases - Kenna Campbell Concert.htm
......| Pig's Ear CD Launch.htm
......| SCoFFnews - Free Tom Lewis songs.htm
......| Show of Hands - The Tour of Topsham 2007 DVD.txt
......| Skyhook.htm
Festivals
......| Broadstairs Folk Week
......| ......| JACK HAMILTON.htm
......| ......| KEITH PEARSON'S COUP DE GRASS in Broadstairs.htm
......| ......| ReSEFAN_2007-11-10_01 Death of Jack Hamilton 09-11-07.htm
......| ......| SEFAN_2007-11-10_01 Death of Jack Hamilton 09-11-07.htm
......| ......| What do you do when Folk Week is over.htm
......| Canterbury Festival
......| Deal Festival of Music and the Arts
......| Deal Maritime Festival
......| ......| Deal LifeBoat House shanty singing - 2003 - MP3 downloads available.txt
......| Faversham Hop Festival
......| KentFolk Fiddlers Various Festival
......| ......| Fiddlers Various photo-reports.txt
......| Other Festivals
......| ......| Fiddle Festival of Wales - Aug 2008.txt
......| Rochester Sweeps Festival
......| Tenterden Festival
......| Wye Fayre
Folk Clubs
......| Deal Friday Folk Club
......| ......| The Words That I Forgot - Bill Howarth - 30th Nov 2007.mht
......| Egerton Folk Club.htm
......| Faversham Folk Club
......| ......| Faversham Folk Club - August and September gig lists.txt
......| ......| Faversham Folk Club listing October - Novermber.txt
......| ......| Faversham Folk Club listings December 2007 and January 2008.txt
......| Island Folk club - Bradstow Mill - Broadstairs.txt
......| Monthly_Folk-Club_list.html
......| Nellies - Tonbridge .htm
......| New club in Broadstairs.htm
......| New Folk club - Bradstow Mill - Broadstairs.txt
......| Tenterden Folk Club - The Woolpack Hotel.htm
......| Tenterden Folk Club.htm
......| Walthamstow Folk Club
......| ......| Walthamstow Folk News - June 24th.htm
......| ......| Walthamstow Folk Update - July.htm
Jobs, Auditions, Funding + Licencing
......| Further to SEFAN_2007-06-13_02 concerning the Licensing Act 2003.htm
......| Government response to petition 'licensing'.txt
......| If you are putting on live entertainment you will need a TEN - 2007.txt
......| LicensingPetition.htm
......| Live Music Licensing Petition to Downing Street.htm
......| Notes re Revised guidance to 2003 Licencing Act - July 2007.txt
......| PEL Update - July 31st.htm
......| SEFAN_2007-01-27_01. Music Licensing Laws - Official Downing Street petition.htm
......| SEFAN_2007-10-01_03 GLEANINGS from VAE artsnews digests.htm
......| SEFAN_2007-10-08_02 GLEANINGS from Voluntary Arts England.htm
......| SEFAN_2007-10-10_03. Stolen banjo..htm
......| SEFAN_2007-10-15_04. GLEANINGS from artsnews digest VAE digest.htm
......| SEFAN_2007-10-26_01. Plea for help - Middlesex.txt
......| SEFAN_2007-11-02_03. GLEANINGS. artsnews and VAE.htm
......| SEFAN_2007-11-06_03 Irish band musicians required. Kent. 15 March 2008.htm
......| SEFAN_2007-11-10_02.GLEANINGS.htm
......| SEFAN_2007-11-18_01. Learning from the best - Community led social enterprise. Workshop at the Sunlight Centre Gillingham Kent.htm
......| Thread SEFAN_2007-07-02_01a. Revised guidance to the Licencing Act 2003.htm
......| Thread SEFAN_2007-07-02_01b. Revised guidance to the Licencing Act 2003.htm
Music + Dance Genres
......| Barn Dances
......| ......| SCoFFnews - Cambs callers day - 25th Nov.htm
......| BlueGrass
......| ......| Keith Pearson's COUP DE GRASS.htm
......| ......| SEFAN_2007-10-10_01. PROPOSED Jon Glik benefit concert.htm
......| ......| SEFAN_2007-11-03_03 ANNOUNCE.Bluegrass Old-Time - SE England.htm
......| ......| SEFAN_2007-11-18_02. Bluegrass - Old-time Music in SE England.htm
......| Blues
......| ......| Billy Ebeling + Brendan Power gigs - July to Dec 2007.htm
......| ......| Katies's gig list - March to Oct 2007.htm
......| ......| Musician listing.htm
......| Cajun
......| ......| Cajun + Zydeco weekend 9th to 12th .txt
......| ......| Cajun Dance Workshops 2007+2008 - Whitstable.html
......| ......| Cajun Dances.html
......| ......| Cajun website and email list.html
......| ......| Cajunbarn.htm
......| ......| Happy Trails Dance Supper.txt
......| ......| Roger Morand Bandzydeco.htm
......| Celtic
......| ......| Camine Gig List - 2007-11 to 2008-01-06.htm
......| ......| Martin Young - Ramona Egle - 24th Nov. 2007 .htm
......| ......| Old Years Night - Hogmanay - New Years Eve - Sandgate.htm
......| ......| shades of Ireland.txt
......| ......| Wheeler Street at the Barge - 29th Oct 2007.txt
......| Folk
......| ......| Brendan Power gigs June - Dec 2007.htm
......| ......| Deferred_Success - Kentish Gigs - June to Dec 2007.htm
......| ......| Grabham Spink hosting and playing at Acoustic Bliss this Monday!.htm
......| ......| Grabham Spink live at orange St. - Friday 24th Nov. 1007.htm
......| ......| Legends Of Folk Rock - The Gathering SPECIAL OFFER.htm
......| ......| Oyster matters November.htm
......| ......| Oyster matters October.txt
......| ......| Re Jo Hook solo gigs.htm
......| ......| SEFAN_2007-05-16_02 Folkopedia @ EFDSS.htm
......| ......| SEFAN_2007-10-01_01EFDSS PRESS RELEASE - HLF GRANT AWARDED FOR TAKE 6 PROJECT.htm
......| ......| SEFAN_2007-10-22_05.ANNOUNCE. America Over the WaterClocktower Croydon.htm
......| ......| Tenterden Folk Club - The Woolpack Hotel.htm
......| ......| The Dealers - Gulbenkian.htm
......| ......| The Words That I Forgot - Bill Howarth - 30th Nov 2007.mht
......| Gypsy + Romany
......| ......| Gypsy Fiddle Collection out + other news....htm
......| ......| Romany music.html
......| ......| Update - London Gypsy Orchetra Concert 10th November.htm
......| Jazz
......| Les Batons, European + EuroCelt
......| ......| events in maidstone - to Dec.htm
......| ......| GIG CB - Pudsey Bear Euro-Ceilidh 3 November.htm
......| ......| Relig Oran up-date - to Dec 2007.txt
......| ......| Relig Oran.txt
......| ......| SEFAN_2007-11-01_02. Gleanings from Kerry Fletcher's newsgroup email.htm
......| Maritime
......| ......| CONTINUATION OF THE SHANTY CREW.htm
......| ......| Deal LifeBoat House shanty singing - 2003 - MP3 downloads available.txt
......| ......| The maritime tradition.htm
......| Morris + Mumming
......| ......| SEFAN_2007-10-19_01. Enquiry. May Day celebration Sedlescombe 2008.htm
......| Roots + World
......| ......| Churchill's gig cancelled.htm
......| ......| Waterhorse - London gig back on.htm
......| ......| Waterhorse - London gig cancelled.htm
......| SEFAN_2007-10-01_02.ANNOUNCE. Dance news from Kerry Fletcher.htm
Musicians + Links
......| Kent Folk - Musician.txt
Open Stage
......| CJ's open mic nights.txt
......| Jack Pound's Open Stage.txt
......| Open Mic Nights - Chislehurst - hosted by the Missouri Gutts.htm
......| Open Stage - Phil for cj.htm
Organisations
......| efolkMusic
......| ......| efolkMusic News Nov 07.htm
......| ......| efolkMusic-Amazon Affiliation.htm
......| ......| Free DigiSampler Vol 3.htm
......| Music for Change
......| SCoFF
......| SEFAN
......| ......| SEFAN_2007-11-14_01. Three x GIG ANNOUNCEMENTS..htm
......| Smithsonian
......| ......| Kent goes to Washington.html
......| ......| Kent went to Washington! A report from Pete Castle.htm
Regional
......| Americas
......| ......| AMP Newsletter Dimitri From Paris - More - 2007-11-02.htm
......| ......| CMA 'Trip of a Lifetime' from Chevy Trucks CMA and Music News Nashville.txt
......| ......| Music News Nashville November 12.txt
......| ......| Music News Nashville October 1.txt
......| ......| Music News Nashville October 15.txt
......| ......| Music News Nashville October 29.txt
......| ......| Music News Nashville SPECIAL MAILING.htm
......| Hampshire
......| Ireland
......| ......| Dublin City Ramblers Winters Brothers Band THE HERITAGE CONCERT TOUR.htm
......| ......| Fwd JMI Gig Guide 7-21 November 2007.htm
......| ......| JMI Gig Guide 24 October 6 November 2007.htm
......| ......| JMI shortlisted for Golden Spider Nov-Dec JMI out now!.htm
......| ......| Wheesin and Squeasin 26-28 October 2007.htm
......| Kent
......| ......| Wotson A - 2007-11-11 - KENT E. SUSSEX GIG GUIDE.htm
......| ......| Wotson A - 2007-11-25 - KENT E. SUSSEX GIG GUIDE.htm
......| London
......| ......| It's Panto time!.htm
......| ......| MMP Newsletter - Nov '07.htm
......| ......| MMP Newsletter - Oct '07.htm
......| ......| MUSICAL TRADITIONS CLUB AUTUMN 2007.htm
......| ......| MUSICAL TRADITIONS CLUB WINTER 2007.htm
......| ......| MUSICAL TRADITIONS CLUB WINTER 2007.htm.lnk
......| ......| SCoFFnews English Folk dance and Song Society grows up gets old becomes cool.htm
......| ......| SEFAN_2007-10-18_02.MORRIS DANCER IN MAJOR EXHIBITION.htm
......| ......| SEFAN_2007-10-22_01.ANNOUNCE. Morris Offspring - New show.htm
......| ......| The Rest of the World.htm
......| ......| Update - London Gypsy Orchetra Concert 10th November.htm
......| ......| Waterhorse - London gig cancelled.htm
......| ......| Xtra (alternative) Panto Date.htm
......| Scotland
......| ......| Cullerlie nominated.htm
......| ......| RSAMD Scottish Traditional Music Graded Exams - November 2007- Looking ahead to Spring 2008.htm
......| Surrey
......| ......| SEFAN_2007-10-10_02. Barndance band member sought.htm
......| ......| SEFAN_2007-10-22_03.ANNOUNCE. World Music at The Guildford Institute.htm
......| ......| SEFAN_2007-10-25_01. ANNOUNCE. Jon Loomes at the Guildford Institute - Friday 26th October.htm
......| ......| SEFAN_2007-10-29_02.ANNOUNCE.Last chance to catch Lester Simpson's Standing In Line - Surrey.htm
......| ......| SEFAN_2007-11-02_02. ANNOUNCE. Acoustic Astronauts - Charity Concert.htm
......| Sussex
......| ......| Acoustic Sussex Newsletter 19 October 2007.htm
......| ......| Acoustic Sussex Newsletter 12 October 2007.htm
......| ......| Acoustic Sussex Newsletter 8 November 2007 (note change of programme).htm
......| ......| Acoustic Sussex Newsletter - 26 October 2007.htm
......| ......| Acoustic Sussex Newsletter 2 October 2007.htm
......| ......| Acoustic Sussex Reminder - The Dylan Project.htm
......| ......| Hailsham Pavilion - Booking Two New Spyboy Shows.txt
......| ......| Hailsham Pavilion - Three New Shows.txt
......| ......| Hailsham Pavilion Christmas Show - only 20 seats left.txt
......| ......| Hailsham singer set to perform with Led Zeppelin.txt
......| ......| Hailshan Pavilion artist nominated for three major awards.txt
......| ......| Maggie Bell live on 107.5 Sovereign Radio (Thursday 22nd Nov.).txt
......| ......| new spyboy shows announced for 2008.txt
......| ......| NINE ITEMS OF FOLK MUSIC NEWS FROM SUSSEX.txt
......| ......| SEFAN_2007-10-24_02. GLEANING (storytelling workshop Brighton).htm
......| ......| SEFAN_2007-10-29_01.ANNOUNCE. John Harvey tunes session Tues Nov 6th more.htm
......| ......| SEFAN_2007-11-01_01. Craig Morgan Robson workshops Lewes Arms 1011 Nov.htm
......| ......| SEFAN_2007-11-03_02.ANNOUNCE. Lewes Arms workshops 2008.htm
......| ......| SEFAN_2007-11-05_03.ANNOUNCE.Lewes Arms 2008 ENGLISH TUNES PRACTICE SESSIONS 2008.htm
......| ......| SEFAN_2007-11-06_01.ANNOUNCEMELTDOWN ENGLISH CEILIDH Sat Nov 10.htm
......| ......| SEFAN_2007-11-09_01New web address for Lewes Arms FC + Robert Harbron Lewes Arms workshop 24.11.htm
......| ......| SEFAN_2007-11-09_02.ANNOUNCE. Christmas Ceilidh @ De La Warr Pavillion.htm
......| ......| SEFAN_2007-11-10_03. Advance notice re Spyboy gig in Lewes.htm
......| ......| SEFAN_2007-11-12_02. ANNOUNCE. Worthing Ceilidh in 2008.htm
......| ......| SEFAN_2007-11-18_03.ANNOUNCE Charity Xmas Ceilidh Walberton near Arundel West Sussex..htm
......| UK National
......| ......| SCoFFnews Oxford FF Stewards.htm
......| World
Sessions
......| Botolphs Bridge Kings Head Hythe.htm
......| Broadstairs woodshed session - Wrotham Arms - 2007-11-23.htm
......| Celtic
......| ......| Celtic Session has moved venue.txt
......| English
......| ......| Doddington Music Session.htm
......| ......| SEFAN_2007-11-05_03.ANNOUNCE.Lewes Arms 2008 ENGLISH TUNES PRACTICE SESSIONS 2008.htm
......| European
......| ......| French Session has moved venue.htm
......| Jazz
......| Mixed
......| ......| King Head Hythe session.txt
......| Monthly Session list.html
......| Music Sessions - October + November.htm
......| Nellies, Woodshed.htm
......| SCoFFnews BBC Transatlantic Sessions CDs and DVD.htm
Sing-Arounds
Tours + Newsletters
......| Almond Greenway.htm
......| Blowzabella.htm
......| Dublin City Ramblers Winters Brothers Band THE HERITAGE CONCERT TOUR.htm
......| FLOOK NEWS.htm
......| Jullie Ellison - October November 2007.htm
......| Rachel Harrington - JuneJuly 2008 in the UK.txt
......| Show of Hands Autumn Tour.txt
Venues
......| Astor Theatre
......| ......| Folk shows in 2007.htm
......| Barge
......| ......| Monthly Gig List (November 2007).txt
......| ......| SINGING LOINS rescheduled!.txt
......| ......| Trafalgar Day Event.txt
......| ......| Wheeler Street at the Barge - 29th Oct 2007.txt
......| Beer Cart Arms
......| Bottleneck Blues
......| ......| 2007-08-03_Our Last Gig!.htm
......| ......| 2007-08-08_Bottleneck Blues Club.htm
......| ......| 2007-08-23_Some Good News!!..... some bad!.htm
......| ......| 2007-09-12_25th Sept ~ The Ian Siegal Band.htm
......| ......| 2007-10-01_Bottleneck Blues Club.htm
......| ......| 2007-10-08_Maidstone Venue and Gig.htm
......| ......| 2007-10-23_Bottleneck Blues Club.htm
......| ......| 2007-11-05_Bottleneck Blues Club.htm
......| ......| 2007-11-19_Bottleneck Blues Club.htm
......| Caseys
......| Cullins Yard
......| Dove at Dargate
......| Folk in the Barn
......| ......| Happy Halloween....txt
......| ......| oh and one more thing....txt
......| Gulbenkian
......| ......| Gulbenkian - Picasso Me.htm
......| ......| Gulbenkian - Rhythm Blues.htm
......| ......| Mitch Benn - Gulbenkian 2007-11-16.htm
......| ......| SEFAN_2007-10-05_01 ANNOUNCE. Altan @ Gulbenkian Theatre Canterbury..htm
......| ......| The Dealers - Gulbenkian.htm
......| Hook and Hatchet - Hucking
......| ......| a few dates for the calendar.htm
......| ......| RE a few dates for the calendar.txt
......| New Venues
......| Orange Street
......| Pizza Express
......| Soul Cafe Maistone
......| Three Mariners at Oare
......| Trinity Theatre
......| Yew Tree
......| ......| Yew Tree - Music again.txt
Web info
......| David Hooper
......| Google
......| ......| Google Advertising.html
......| ......| Google Calendars.html
......| Group and Musician web-sites
......| KentFolk How-Tos
......| ......| Having images, photos, posters and flyers in emails for the web.htm
......| ......| How to send event items for the KentFolk Calendars.html
......| ......| How to send news items for the KentFolk News pages.html
Workshops
......| Fiddle Festival of Wales - Aug 2008.txt
......| Fiddle Workshops - Wales.pdf
......| Fiddle Workshops in Wales.txt
......| SEFAN_2007-11-03_02.ANNOUNCE. Lewes Arms workshops 2008.htm


---