---
KentFolk News

December 2008
Hi,
'Fraid research has had to take priority the last few weeks - the first few weeks of November News went into the October page, the rest that is still relevant should be in this slightly early December News.

---
So we have lost two more music-frindly pubs : The Anchor in Wingham (home of the regular Wednesday Celtic Session) and The Drum in Stanford (home of a regular folk club run by David Pleasants) have both ceased trading ....

2009-01-07 :
The Drum at Stanford North is now shut and I understand that there is a regular gig there and am wondering if you would like to come to The Black Horse, Monks Horton, which is 3 miles down the road regards Harry Willett

Hi Folks,

Sad news, The Drum has had to cease trading!

We have had an offer from The Black Horse at Monks Horton to host us and I shall be going there in about an hour with Maureen and Dave to have a look at the facilities which sound as if they will suit us.
It is therefore most likely that we shall meet there tomorrow night. I will send more details later but either way Dave Jones will be at The Drum tomorrow to redirect people.
What I would request is the maximum possible turnout tomorrow night to support our club wherever we may meet.
Please pass the word as not everyone reads their e-mails that quickly.
I only heard of the pub closure when I read my e-mail at about 1600 when Beau Webber www.kentfolk.com forwarded an e-mail from the landlord of the Black Horse.
More later

Regards

David


Hi Folks,

I have done the recce and we shall be meeting at The Black Horse, Monks Horton ( www.thebestpubintheparish.com ). Performance will start at 2030 as usual but don't worry if you are running late. A word of warning the pub only serves food in the evening at weekends so Roger, don't expect to get any chips! There is very useful info on the website including an extract from the Ordnance Survey map which you can print out, also, as promised, Dave Jones will be at The Drum from 1930 with diagrams for those who are not sure of the way and to pick up anyone who has not heard the bad news about The Drum closing.
All being well, we shall be there for the foreseeable future. The room we shall be using is much larger than either The Drum or The White Hart and the acoustics are good!
I will not do a route card now to save time but if you wish I will happily give directions over the phone or by e-mail if requested. My numbers for anyone who doesn't have them are: 01797-320518 or Mobile 07890-292467. I will break my usual rule and leave my mobile on until about 2100 tomorrow.
I can't think of anything else to add at present but if there is additional info which you would like please don't hesitate to contact me. See you there!
Regards

David



---
We are losing music pubs and music-friendly Landlords at a frightening rate
- and the evidence is that the Licensing Act 2003 is responsible.
I have been saying we are losing music pubs and music-friendly Landlords at a frightening rate for a while (see below for what was here previously), but now I have some hard numbers - and hard numbers they are to swallow - but if all things remain equal (and they never do), we could have no live music in Kent by 2012.
I have been doing the KentFolk web page since the year 2000, and the fall off in gig numbers is very evident from my data - but my research gets in the way some months, and that causes scatter in the numbers, so for good figures I went to Chris Ashman of www.kentgigs.com and asked if I could data-mine his Gig Archives :
"Hi Beau,
I would suggest that you should look at our lists also in the light of the number of venues that are prepared to pay to promote their events rather than expecting bands to act like "rent a crowd". ......
We can say without doubt this is the worst period we have seen for Kent bands since we started supplying the media in 1981,
Chris"
So I pointed my programs at his gig archive, and this is the graph I get; I plot the number of live music gigs per week in Kent and East Sussex that are listed on www.kentgigs.com over the years Summer 2004 to Christmas 2008 :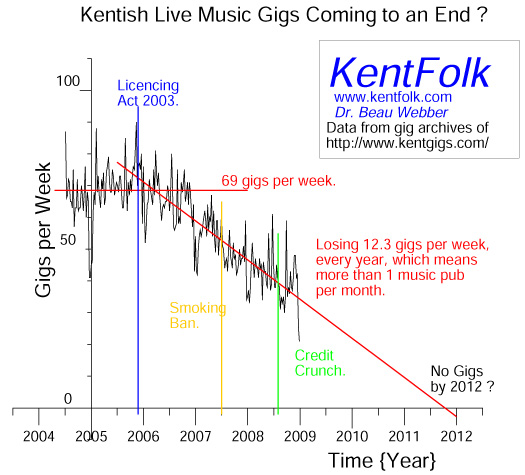 Are Kentish and East Sussex Live Music Gigs Coming to an End ?
At first look we have a quite a lot of scatter, then we can see that in fact some of the variation is a regular dip of some 20 or 30 gigs per week over the Christmas weeks, which makes sense.
But the main feature is that a steady live-gig-rate of about 70 per week has been about halved. What has caused this ? - we can line-up events on this time-graph with major events that have recently happened :
The Credit Crunch - starting late Summer 2008 into Autumn - There is a definite dip, but surprisingly the graph seems to have gone up again by Winter and the time of the regular Christmas dip - perhaps people are in need of compensation, and live music is a good option?
The Smoking Ban - came into effect 1st July 2007 - Possibly there is a slight dip, but I do not believe there is any statistically significant change.
The Licensing Act 2003 - came into force on 24 November 2005 - We see that what was a regular and fairly steady live music gig-rate of about 70 per week has turned within a month or two into a steady and apparently uniform slide towards zero.
Now I am not one of those who found no merit in the Licensing Act 2003 - I agree the licencing fee takes most of the possible profit from the gigs I sometimes put on, but I do get a piece of paper that makes the gig legal.
However what is totally unacceptable is that it would seem that for the publicans and musicians the scheme is unworkable, such that if everything is equal - and it won't be - we can expect no live music over the Christmas weeks next year (2009) - down from a recent 40 to 50 gigs per week over the Christmas period - and before the end of 2011 live music gigs will be effectively over or too far away to drive to.
There is an urgent need to get this data to those who can make a difference, and also your real stories about publicans who are being thrown out and musicians who are losing their trade - this data is unequivocal :
- The Licensing Act 2003 is destroying live music in one of the most musically active counties in the UK.
However the real question is :
What is it about the Licensing Act that is destroying pubs and the music ?
Suspicions :
Longer opening hours : Pushes up costs for the smaller pubs.
Longer opening hours : No need to go to the pub just yet - oh it is too late ....
Easier sales of booze in supermarkets : No need to go to the pub at all now.
Your thoughts ? We need a dialogue on this - a number of people have responded with thoughts ;
many of their suggestions (fewer pubs, etc.) are themselves consequent on the Licensing Act - but why ?
For some of the suggestions there is no obvious reason that their effect should have suddenly have 'cut in' about Christmas 2005 - is there something else that I have not identified that changed then ?
So ask your publican, chat with musicians, invite your neighbour to a pub gig and see what they say .... we need an answer and soon.
cheers,
Dr. Beau Webber
Beau@KentFolk.com
---
This is what I was saying already : We are losing music pubs and music friendly landlords at a frightening rate - the major music venue in Canterbury, Simple Simons lost its music-friendly landlord, changed its name to The Parrot, and stopped doing music since the Summer - but the good news is that they now host a Celtic Session on the 1st Sunday of the month, and I have just been and chatted with them, and they will now be hosting gigs on Saturdays, and I hope to be sent the gig list.
On the other hand the down side is that the regular weeky Celtic Session on Wednesdays that has now been in the Anchor, Wingham, for a number of years, will end on Wednesday 7th January 2009.
An up-side is that the excellent pub the Yew Tree in Barfreston is again starting to do music - on Sundays - currently Jazz on the last Sunday, but watch this space :
Hello there,
My name is Ben Bevan and I am the owner these days of The Yew Tree in Barfreston.
I understand that it was a popular venue for folk music. I was wondering if I might offer my pub on a sunday evening for the use of the Kent Folk community. As it stands we have Jazz on the last sunday of each month. The other sundays are all free. They are the only evening that we do not serve food so the whols pub is at your disposal.
We still pride ourselves on our real ales, most of them from Kent. ...... The pubs website is now www.yewtree.info and the pub telephone number is 01304 831000
We have just won Uk pub newcomer 2009 in the good Food Guide and we have spruced the place up a little but essentially not changed the traditional nature of the pub.
Best wishes
Ben
STOP PRESS : The Yew Tree and opera-singing Ben will be featured on BBC S.E. TV, on Monday 29th lunch-time and 6pm News.
Excellent local bitters in the Yew Tree, including Gadds, all at £2 per pint.
We are looking to get some open stage events in place, and Happy Trails will be there on Sunday 1st February, so expect some good music - and Cajun dancers.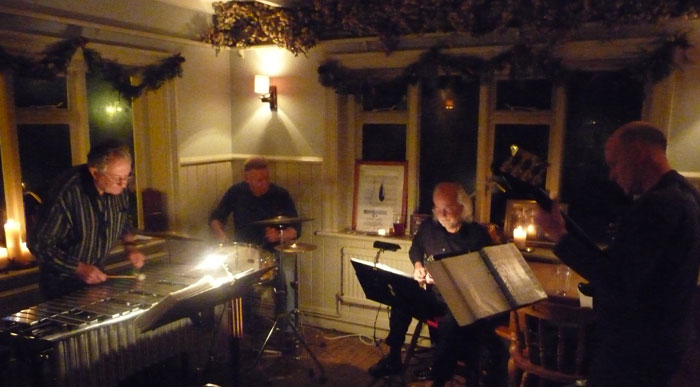 Jazz Notes are the last Sunday of the month house-band at the Yew Tree.
---
An excellent set from The Dealers at the Wrotham Arms in Broadstairs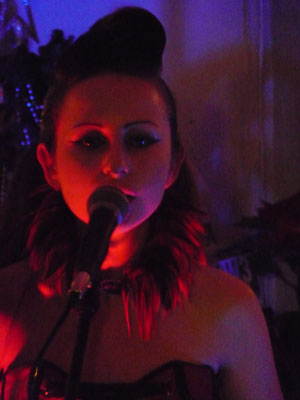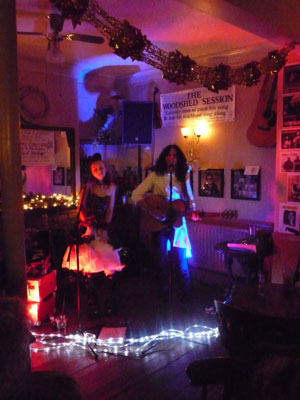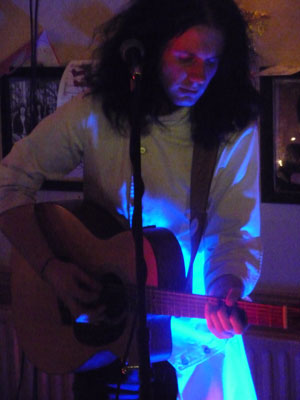 Packed to bursting, the Wrotham Arms gave an enthusiastic welcome to the excellent local duo The Dealers.
---

New Players needed for Traditional Music sessions
There are many traditional sessions, open stages and sing-arounds in Kent these days, with the traditional sessions covering styles from English to Celtic to French/Breton/Eastern European to Renaissance ....
However while some of the young people's open stages are doing well, there is a worry that there are a lack of new people, particularly young people, particularly fiddlers, at the traditional sessions.
Please see the plea for new players, in the Sessions section below :
Sessions
......| A plea for new players at traditional sessions - particularly younger players.txt
If you are interested in coming along, but would like to practice some tunes first, I have put, in the Sessions news section, a pointer to finding out what tunes are played at the different sessions:
......| What tunes do they play at the different sessions.txt
I have also put there info on gig-reports, from the sessions, with photos and down-loadable .mp3 music.
---

Lab-Tool: Build-a-Page : Build an Html Web Page with photos.
The first of the KentFolk text- and web-tools offered for general use, in conjunction with Lab-Tools :
For more info., see : www.lab-tools.com/software/Build-a-Page/
---
Selling individual MP3 tracks, and complete Digital Albums, over the web :
For some time KentFolk has been using PayPal to sell local musician's CDs. A new technology that I have wanted for some time, is now in place: - KentFolk can now sell individual MP3 tracks, either directly from the KentFolk web pages, with payment by CC or PayPal, or via the highly respected eFolkMusic www.eFolkMusic.org, in the States.
If you are a musician, group or band that would like to sell your tracks over the web, and of course this is particularly good for both CDs that have all sold out, as well as new tracks that are not yet on a CD, then please email me : Beau@KentFolk.com
I am limited in my time available to "turn the handle" on these, and it is very time-consuming, but will do what I can. As a preliminary offering, the 2003 Deal LifeBoat House shanty recording were the first available on the web - both in the form of a few individual tracks, and the complete recording - all net profit to the NLRI, after the CC/PayPal deductions.
MP3 music currently available on KentFolk, at www.kentfolk.com/#Mp3music :

"The LifeBoat Men come ...."
13 sea shanties recorded by KentFolk during the 2003 Deal Maritime Festival, at a live concert by Shanty Crew, Bosun's Call and the Deal Hoodeners, in the LifeBoat House, Deal on the 7th of September, 2003. - all net money to the RNLI!
MP3 music currently available on eFolkMusic, in the "KentFolk stable",
at www.efolkmusic.org/ArtMusic/ViewArtist.aspx?a=0&AID=1570 :
"The LifeBoat Men come ...."
13 sea shanties recorded by KentFolk during the 2003 Deal Maritime Festival, at a live concert by Shanty Crew, Bosun's Call and the Deal Hoodeners, in the LifeBoat House, Deal on the 7th of September, 2003. - all net money to the RNLI!
"Reasons to Rhyme"
Two tracks from members of the Deal Folk Club : CD: "Reasons to Rhyme" - "He Rode the Waves" and "Mother Nature", with Sue Watson singing and Stuart Maclean on the guitar.
"The Rattlaz : Songs of Peace & Protest"
England is still experiencing hard times and the crow is still well and truly fixed to the cradle. Deportees are still with us in the form of migrant workers ... The voice in all these songs is the voice of compassion and understanding, the voice of hope and determination. We ignore this voice at our peril.
Originally produced as a Concert for the Folkestone Literary Festival, 2006. Chris Tophill : Accordion / Piano / Mandolin / Vocals. Kevin Richards : Djembe / Percussion / Guitar / Vocals. Jack Pound : 6 & 12 String Guitars / Banjo / Harmoonica / Vocals.
"Relig Oran : Tracks From The Dark Side"
These three lads - all deeply experienced in Traditional Celtic and European music - are creating a genre of their own - I am using the term "Euro-Celt" to describe the music they are writing and playing. It looks back to our roots when the Celts were pan-Europe, and makes a strong statement for the present when the Tribes of Europe are re-finding what they have in common.
Gordon Jackson - Andy Renshaw - Martin Sutcliffe
"Martin Long : The Climbing Boy"
"Martin Young : Botany Bay"
Martin is a lad who has been around on the Faversham Folk scene for longer than I have known it, variously as Martin Long, and Martin Young.
Martin is I feel very much in the old troubadour mold, in that the music can not let him rest, it very much defines who he is.
The songs he sings, sometimes intensely personal, sometimes with local Kentish references, are mostly self-penned, usually both the tunes and the lyrics.
The Climbing Boy: Title Track: Often small boys were taken in by Chimney sweeps and in return for a home were forced to climb chimneys and scour them out as they ascended. Rochester has an annual Sweeps Festival.
Botany Bay: Title Track: is a double reference - to both the Botany Bay in Sydney, New South Wales, Australia - it was the site of a landing by James Cook - and also to the Botany Bay near Broadstairs in Kent - see cover photograph.
"Happy Trails : White Sands"
Choice Americana in harmony from a group of musicians who have been giving Kent top quality music for many years - Blues, Cajun, Appalachian, Country and now Americana from the South.
13 songs where this Kentish band - Happy Trails - take an honest and affectionate view into what they have seen and heard on some of their many visits to the Southern States.
The KentFolk page on eFolkMusic is at : www.efolkmusic.org/ArtMusic/ViewArtist.aspx?a=0&AID=1570
Then go to the MP3 and Digital Album links.
---
Multi-level directories of News :
Do keep sending me news and items for both the calendar and this news section -
Please see the info at the bottom of the news pages for guidance as to good formats to send me news items for these pages, and for event listings for the calendars.
cheers, Beau.
---

Adverts
......| 2008-11-28 - WeGotTickets - Bellowhead + Chas N Dave + WildBeasts + Young Knives.htm
......| 2008-12-13 - Dolphin - Blofeld Bundle Sibelius Package More!.htm
......| 2008-12-13 - Dolphin - The Best Deals and Hottest News This Week.htm
CDs, MP3 music, Video, Radio, Lyrics + Verse
......| 2008-11-10 - fRoots big JanFeb double issue reminder.htm
......| 2008-11-20 - Worlds of Trad November Upload.htm
......| 2008-11-25 - Adrian'O - UP COMING GIGS.htm
......| 2008-12-02 - Folk and Roots Updates Tour News Oxford Folk Festival Stewards.txt
......| 2008-12-05 - New LGO album on sale today.htm
......| 2008-12-06 - Tim Kliphuis Grappelli Gypsy Jazz Book out now - a real Xmas cracker.htm
......| 2008-12-13 - Christmas Sung Simply.htm
......| 2008-12-13 - Guide Cats for the Blind - Brian Perkins Spoof Shipping Forecast on YouTube.htm
......| 2008-12-13 - New Release from Macmeanmna Niall Matheson.htm
......| 2008-12-19 - Worlds of Trad Christmas Special.htm
......| 2009-01-05 - fRoots magazine March issue.htm
......| Fiddle - New Chris Haigh CD.txt
......| Guide Cats for the Blind - good sales !.txt
......| Kentish Hops - Book and CD.htm
......| Kentish musician's MP3 Tracks and Digital Albums for sale at eFolkMusic.html
......| SEFAN 2008-11-19_02 Music Maker Festival Guide.htm
......| SEFAN 2008-11-2 Storytelling events in London and around Surrey Nov Dec.htm
......| SEFAN 2008-12-03_02 ANNOUNCE. New CD of folk songs from Kent.htm
......| SEFAN 2008-12-29_04 STORYTELLING - SURREY + LONDON.htm
......| Simon Evans - BBC Radio Kent - listen at any time.html
Festivals
......| Broadstairs Folk Week
......| Canterbury Festival
......| Deal Festival of Music and the Arts
......| Deal Maritime Festival
......| ......| Deal LifeBoat House shanty singing - 2003 - MP3 downloads available.txt
......| Faversham Hop Festival
......| KentFolk Fiddlers Various Festival
......| Other Festivals
......| Rochester Sweeps Festival
......| ......| Re thank you.htm
......| ......| Sweeps 2008 - photo-report.txt
......| ......| Sweeps 2008 - some highlights.htm
......| ......| thank you from the Groanbox Boys.htm
......| Tenterden Festival
......| ......| 2008-07-21 - Dance displays at Tenterden Folk Festival 2008.htm
......| ......| 2008-08-10 - Tenterden Folk Festival update.htm
......| ......| 2008-08-28 - The RSPB Wildlife Explorers Roadshow presented by Ticklish Allsorts flies into Tenterden soon!.htm
......| ......| A diversity of guests at Tenterden Folk Festival.htm
......| ......| Advert price list - March 08.pdf
......| ......| Advertising in Tenterden Folk Festival 2008 programme.htm
......| ......| Arrangements for Tenterden Folk Festival 2008 are coming on a pace..htm
......| ......| Birds in Folk Song.htm
......| ......| It is not to late to advertise in our programme.htm
......| ......| Tenterden Folk Festival 2008 - Welcome Barn Dance with The Committee Band.htm
......| Wye Fayre
Folk Clubs
......| 2008-11-03 - Whitstable Folk Club.txt
......| 2008-11-25 - CRABBLE FOLK SUPPER 28 NOV 08 SUNDAY 21 DEC 08.htm
......| 2008-11-28 - FOLK AT THE DRUM - GUEST NIGHT 4 DEC 08 - RICHARD GRAINGER AND CLUB CHRISTMAS DINNER.htm
......| 2008-12-04 - FATD TONIGHT 4 DEC 08.htm
......| 2008-12-05 - Cellar Upstairs new website.txt
......| 2008-12-16 - Tonbridge Folk Club (Nelllie's) - new details.txt
......| 2008-12-17 - CRABBLE FOLK SUPPER SUNDAY 21 DEC 08.htm
......| 2008-12-17 - FATD 18 DEC 08 1 JAN 09.htm
......| 2008-12-23 - Crabble Mill Folk Nights.txt
......| 2008-12-23 - Whitstable folk club.txt
......| 2009-01-07 - BLACK HORSE- does food in the bar.htm
......| 2009-01-07 - Fw NEWSFLASH - DRUM CLOSURE - FOLK CLUB ON TOMORROW NIGHT 7 JAN 09.htm
......| 2009-01-07 - NEWSFLASH - DRUM CLOSURE - FOLK CLUB ON TOMORROW NIGHT 7 JAN 09.htm
......| 2009-01-07 - re The Drum Stanford North.htm
......| Deal Friday Folk Club
......| ......| 2009-01-05 - Friday Folk - Jan 2009.txt
......| ......| Kent Songs concerts.htm
......| Egerton Folk Club.htm
......| Faversham Folk Club
......| ......| 2008-09-04 - Faversham Folk Club listing October - December.txt
......| ......| 2008-12-01 - Faversham Folk Club listing - January to March 2009.txt
......| Folk at The Drum - GUESTS 2008.htm
......| Fox and Hounds Folk Club.htm
......| Island Folk club - Bradstow Mill - Broadstairs.txt
......| Monthly_Folk-Club_list.html
......| New club in Broadstairs.htm
......| New Folk club - Bradstow Mill - Broadstairs.txt
......| Tenterden Folk Club at The Woolpack.htm
......| Walthamstow Folk Club
......| Whitstable Folk Club.txt
Jobs, Auditions, Funding + Licencing
......| 2008-12-06 - re my recent message on the 696 form - very important pass along.htm
......| 2008-12-29 - The Licensing Act 2003 is destroying live music in Kent.html
......| Public Entertainment Licensing Act (2003) - prior news items.txt
......| SEFAN 2008-11-25_02 GLEANINGS (4).htm
......| SEFAN 2008-11-26_03 GLEANINGS.htm
......| SEFAN 2008-11-27_02 CALLOUTS from ACEjobs.htm
......| SEFAN 2008-12-03_01 CALL OUT Barndance Event in Handcross W Sussex.htm
......| SEFAN 2008-12-03_03 actionformusic Form 696 - E Petition.htm
......| SEFAN 2008-12-04_01 GLEANINGS ANNOUNCEMENTS.htm
......| SEFAN 2008-12-08_02 GLEANINGS 2 from ACEnews 1 Enyan.htm
......| SEFAN 2008-12-12_01 GLEANINGS from Voluntary Arts England and ACEjobs.htm
......| The Licensing Act 2003 is destroying live music in Kent.html
Music + Dance Genres
......| BlueGrass
......| ......| 2008-11-13 - SE England Bluegrass Old-Time Music - Nov 2008.htm
......| ......| 2008-11-16 - THE BBMA IS BACK!.htm
......| ......| 2008-11-28 - BluegrassOld-time extra.htm
......| ......| 2008-11-28 - South East England Bluegrass + Old-Time Music - Nov,Dec 2008.htm
......| ......| 2008-12-05 - Bluegrass Extra.htm
......| ......| 2008-12-05 - South East England Bluegrass Old-Time Music.htm
......| ......| 2008-12-12 - South East England Bluegrass Old-Time Music (Kent Surrey Sussex London) - Dec 2008.htm
......| ......| 2008-12-15 - Bluegrass Extra.htm
......| ......| 2008-12-20 - South East England Bluegrass Old-Time Music (Kent Surrey Sussex London) Dec, Jan 2008.htm
......| ......| 2008-12-21 - Old-Time Music - EXTRA.htm
......| ......| 2008-12-22 - High Weald Ridge - Bluegrass.txt
......| ......| 2008-12-28 - South East England Bluegrass Old-Time Music - Dec 2008 to May 2009.htm
......| ......| 2008-12-30 - Bluegrass Extra.htm
......| ......| 2009-01-01 - SE England Bluegrass Old Time Music - Jan 2009.htm
......| Blues
......| ......| 2008-12-03 -Bottleneck Blues Club.htm
......| ......| 2009-01-05_Broadstairs-Blues-Bash.pdf
......| ......| 2009-01-06 - Broadstairs Blues Bash - Feb 2009.htm
......| ......| Broadstairs Blues Bash.txt
......| Cajun
......| ......| 2008-11-15 - Cajunbarn - 22nd Nov 2008.htm
......| ......| 2008-12-12 - Cajun Zydeco coming up!!.htm
......| ......| 2008-12-27 - Cajun Dance - New Year's Eve.htm
......| ......| 2009-01-04 - Cajun comin' up!!.htm
......| ......| 2009-01-06 - Change of date for Hook Hatchet.htm
......| ......| Cajun Barn back in Eltham!!!.htm
......| ......| Cajun Dance Workshops 2008 - Whitstable.html
......| ......| Cajun Dances.html
......| ......| Cajun website and email list.html
......| ......| Cajunbarn at The Tudor Barn - June to December 2008.htm
......| ......| Photo-report on Dindon Sauvage Spring Cajun Dance.html
......| Celtic
......| ......| 2008-07-19 - Camine Gig List 2008.mht
......| ......| 2008-11-25 - Adrian-O - UP COMING GIGS.htm
......| Dance, Barn Dances
......| ......| Dance School in Maidstone.htm
......| ......| EFDSS English Dance and Song Available 1 March.htm
......| ......| Kentish Hops - Book and CD - Dances.htm
......| ......| Marsh Green Maypole.txt
......| ......| SEFAN 2008-12-01_02 EVENTS Euro and American Dance information from Kerry + Eurobash 2009 in Jan.htm
......| ......| SEFAN 2008-12-08_02 EVENTS (4) upcoming CEILIDHS in region.htm
......| ......| SEFAN 2008-12-11_01 EVENTS. 3 London 1 Tunbridge Wells.htm
......| ......| SEFAN 2008-12-19_04 Ceilidh dancing on Woman's Hour..htm
......| ......| SEFAN 2009-01-05_03 EVENT Dancing in Kent. Tonight!.htm
......| Folk
......| ......| 2000-01-07 - SCoFFnews Some great Kent folk ........htm
......| ......| 2008-11-20 - The Golden Lyre of Ur - 6th Dec. 2008.htm
......| ......| 2008-11-30 - Ron Trueman-Border Listings - Dec 2008.htm
......| ......| 2008-12-03 - Andrew White Brendan Power Friday.htm
......| ......| 2008-12-04 - Fairport Convention in Margate - May 2009.htm
......| ......| 2008-12-05 - Oysterband - One last push....txt
......| ......| 2008-12-05 - Pignews Yuletide greetings.htm
......| ......| 2008-12-08 - TWISTED FOLK MAILOUT-WINTER 2008.htm
......| ......| 2008-12-14 - The Yew Tree Barfreston.htm
......| ......| 2008-12-15 - (SCoFFnews) Concertinas Anonymous changing time place in 2009.htm
......| ......| 2008-12-15 - (SCoFFnews) Lewes Arms Folk Club moving to Elephant Castle in January.htm
......| ......| 2008-12-19 - FLOOK NEWS - disbanding.htm
......| ......| 2008-12-28 - porch swing blues gig list.htm
......| ......| 2008-12-31 - Happy New Year! - Robb Johnson, Drhone, Relig-Oran.htm
......| ......| 2009-01-03 - Happy New Year from Pig's Ear - Jan 2009.htm
......| ......| 2009-01-04 - Folk Sing Around.htm
......| ......| 2009-01-06 - New Venue - La Salle Verte .htm
......| ......| 2009-01-08 - Adrian O + No Worries - Sat 10th JAN.htm
......| ......| Camine gig list - Summer and beyond....htm
......| ......| Canterbury Acoustic.txt
......| ......| CRABBLE FOLK SUPPPERS - to Dec. 2008.htm
......| ......| Fw Call for Papers2000-01-05 - London Fiddle Festival - 20-22 February 2009 - SOAS.txt
......| ......| Raglan Road.htm
......| ......| Ratalaz - eFolkMusic.txt
......| Gypsy + Romany
......| ......| 2008-11-26 - LGO Xmas News.htm
......| ......| 2008-11-27 - Le QuecumBar Update - December 2008.htm
......| ......| 2008-12-02 - Le QuecumBar Prestige Performance Concerts special events and gig list Dec Jan Feb.htm
......| ......| 2008-12-05 - New LGO album on sale today.htm
......| ......| 2008-12-06 - Tim Kliphuis Grappelli Gypsy Jazz Book out now - a real Xmas cracker.htm
......| ......| 2008-12-17 - THE RITARY GAGUENETTI TRIO - BRIGHTON AND LONDON.htm
......| ......| 2008-12-19 - Le QuecumBar Prestige Performance Concerts special events and gig list Dec Jan Feb.htm
......| ......| London Gypsy Orchestra Musicians.htm
......| ......| Romany music.html
......| Jazz
......| ......| 2008-12-02 - Jazz gig - 13th December 2008.htm
......| ......| Hot Club Jazz at St Julians Sevenoaks.htm
......| ......| Open Mic Jazz Singers Night.htm
......| Les Batons, European + EuroCelt
......| ......| 2008-12-12 - les Batons Christmas Greetings.htm
......| ......| 2009-01-04 _ Medieval event in Maidstone on Saturday 10th January.txt
......| ......| Relig Oran mp3 downloads from eFolkMusic.txt
......| ......| SEFAN 2008-12-01_02 EVENTS Euro and American Dance information from Kerry + Eurobash 2009 in Jan.htm
......| ......| Traditional European Dance and music workshops - 6th September .htm
......| Maritime
......| ......| CONTINUATION OF THE SHANTY CREW.htm
......| ......| Deal LifeBoat House shanty singing - 2003 - MP3 downloads from KentFolk and eFolkMusic.txt
......| ......| The maritime tradition.htm
......| Morris, Mumming, Hoodening + Bell ringing
......| ......| Gate Inn - Marshside - Christmas + New Year.mht
......| ......| SEFAN 2008-12-31_02 EVENTS concerning Mummers Morris Apple Howling and Wassails.htm
......| ......| SEFAN 2009-01_08_02 (3) Items re Morris dancing.htm
......| Roots + World
......| ......| 2008-12-03 - Global Boutique Event at Orange Street Music Club December 4th!.htm
Musicians + Links
......| 2008-11-05 - Kai Tonjes instruments - New workshop.htm
......| 2008-12-22 - High Weald Ridge - Bluegrass.txt
......| 2008-12-28 - porch swing blues gig list.htm
......| Phil Thorne -acoustic country blues .htm
......| Tony Cox - virtuoso guitarist.htm
Open Stage
......| CJ's open mic nights.txt
......| Jack Pound's Open Stage.txt
......| Monthly Open Stage list.txt
......| Open Mic Nights - Chislehurst - hosted by the Missouri Gutts.htm
......| Open Stage - Phil for cj.htm
......| SEFAN 2008-04-02_02. Open Mike at The Pig Butcher (formanlly The Fireman's).htm
Organisations
......| Ariel Publicity
......| ......| 2008-11-19 - Pre-Cleared Podsafe Podsafe MP3 Downloads!.htm
......| ......| 2008-11-25 - Pre-Cleared PodsafeCyber PR 2008 Holiday Fundraiser.htm
......| ......| 2008-12-03 - Pre-Cleared Podsafe Are You Participating In The Holiday Contest Yet.htm
......| ......| 2008-12-10 - Pre-Cleared Podsafe Sound Advice TV!.htm
......| ......| 2009-01-07 - Pre-Cleared Podsafe Improving Cyber PR For You!.htm
......| efolkMusic
......| ......| 2008-11-24 - efolkmusic Supporters Update 11-08.htm
......| ......| 2008-12-16 - efolkMusic Member Update Dec 08.htm
......| FAE
......| Indie Contact
......| ......| 2008-11-25 - Newsletter 43 Places to Promote Your Music - November 2008.htm
......| Mrs Casey Music
......| ......| 2008-11-27 - Kate Rusby for Christmas.htm
......| ......| 2008-12-18 - Dreams of Towersey this Christmas.htm
......| ......| 2008-12-19 - Site 1 - Have Your Say.htm
......| Music for Change
......| ......| 2008-11-20 - The Golden Lyre of Ur - 6th Dec. 2008.htm
......| ......| 2008-12-03 - Global Boutique Event at Orange Street Music Club December 4th!.htm
......| ......| SEFAN 2008-11-20_01 Global Boutique Event at Orange Street Music Club (KENT).htm
......| NetRhythms
......| ......| 2008-11-20 - NetRhythms Folk Nominations.htm
......| ......| 2008-11-28 - NetRhythms Christmas Music December Tour Dates.htm
......| ......| 2008-12-10 - NetRhythms The Barbican Folk America.htm
......| ......| 2008-12-12 - NetRhythms More Music News.htm
......| SCoFF
......| SEFAN
......| ......| SEFAN 2008-11-20_03 EVENTS (3) incl.B'tonFBC-change of venue!.htm
......| ......| SEFAN 2008-11-22_01 EVENTS (3).htm
......| ......| SEFAN 2008-11-26_02 EVENTS (2).htm
......| Smithsonian
......| ......| 2008-11-24 - Smithsonian Global Sound Nov. '08 Free Shipping Through Dec. 16th.htm
......| ......| 2008-12-16 - Smithsonian Global Sound Dec. '08 Happy Holidays Grammy Discount.htm
......| WeGotTickets
......| ......| 2008-12-05 - WeGotTickets Latest Events.htm
......| ......| 2008-12-19 - WeGotTickets for - Rumble Strips + The Ataris + Imelda May + Reel Big Fish.htm
......| ......| 2008-12-27 - WeGotTickets for - The Bronx + The Dykeenies + Arlo Guthrie + Letz Zep.htm
......| ......| 2009-01-02 - WeGotTickets - So Hot Right Now....htm
Regional
......| Americas
......| ......| 2008-11-24 - Broward County Fair 15th Annual Unsigned Artist Showcase.htm
......| Essex
......| Europe
......| Hampshire
......| ......| 2008-11-27 - SCoFFnews Banjo Soton.htm
......| ......| 2008-11-28 - SCoFFnews Ringwood Folk Club - guests in December.htm
......| Ireland
......| ......| 2000-01-04 - JMI Gig Guide Bulletin.htm
......| ......| 2008-11-24 - JMI Gig Guide Bulletin.htm
......| ......| 2008-12-01 - JMI Gig Guide Bulletin.htm
......| ......| 2008-12-08 - JMI Gig Guide Bulletin.htm
......| ......| 2008-12-15 - JMI Gig Guide Bulletin.htm
......| ......| 2008-12-22 - JMI Gig Guide Bulletin.htm
......| Kent
......| ......| 2008-11-25 - News and Gigs Wotson - 6th December 2008 Onwards - Kent E Sussex Gig Guide.htm
......| ......| 2008-12-02 - News and Gigs Wotson - 14th December 2008 Onwards - Kent E Sussex Gig Guide.htm
......| ......| 2008-12-09 - News and Gigs Wotson - 21st December 2008 Onwards - Kent E Sussex Gig Guide.htm
......| ......| 2008-12-15 - News and Gigs Wotson - 28th December 2008 Onwards - Kent E Sussex Gig Guide.htm
......| ......| 2008-12-23 - News and Gigs Wotson - 4th January 2009 to 17th January 2009 - Kent E Sussex Gig Guide.htm
......| ......| 2009-01-05 - News and Gigs Wotson - 18th January 2009 Onwards - Kent E Sussex Gig Guide.htm
......| ......| 2009-01-08 - SCoFFnews Some great Kent folk ....htm
......| ......| SEFAN 2008-11-28_01 EVENTS (3) Kent.htm
......| London
......| ......| 2008-10-25 - Le QuecumBar Gig list Oct Nov Dec and court news.htm
......| ......| 2008-11-03 - Magpie's Nest - Celtic London Launch.htm
......| ......| 2008-11-06 - storm at Le Quecumbar.htm
......| ......| 2008-11-25 - Long Notes Bodega.htm
......| ......| 2008-11-25 - Magpies Nest Events..htm
......| ......| 2008-11-26 - LGO Xmas News.htm
......| ......| 2008-11-27 - Le QuecumBar Update - December 2008.htm
......| ......| 2008-11-27 - WHAT'S ON @ The Halo.htm
......| ......| 2008-11-28 - Lionel Ritchie at the O2 - April 2009.htm
......| ......| 2008-11-29 - MMP - Discount tickets - last chance!.htm
......| ......| 2008-11-29 - MMP -Discount Tickets for NYE.htm
......| ......| 2008-11-29 - MUSICAL TRADITIONS CLUB WINTER 2008+2009.htm
......| ......| 2008-12-02 - Chris Wood High Lupton in Christmas Champions@Cecil# House.htm
......| ......| 2008-12-02 - Le QuecumBar Prestige Performance Concerts special events and gig list Dec Jan Feb.htm
......| ......| 2008-12-05 - Paprika Balkanicus + Zong Zing All Stars - Sat 6th December.htm
......| ......| 2008-12-06 - WHAT'S ON @ The Halo.htm
......| ......| 2008-12-11 - Magpie's@CARGO! + Last night of year@The Old Queen's Head.htm
......| ......| 2008-12-17 - THE RITARY GAGUENETTI TRIO - BRIGHTON AND LONDON.htm
......| ......| 2008-12-17 - WHAT'S ON @ The Halo.htm
......| ......| 2008-12-19 - Le QuecumBar Prestige Performance Concerts special events and gig list Dec Jan Feb.htm
......| ......| 2008-12-28 - CELLAR UPSTAIRS FOLK CLUB PROGRAMME FOR JANUARY TO JUNE 2009.htm
......| ......| 2008-12-29 - a little secret....htm
......| ......| 2009-01-05 - MUSICAL TRADITIONS CLUB WINTER 2009.htm
......| ......| SEFAN 2008-11-26_01 Two events from EFDSS.htm
......| ......| SEFAN 2008-12-04_01 GLEANINGS ANNOUNCEMENTS.htm
......| ......| SEFAN 2008-12-04_02. EVENTS. December 2008 at Cecil Sharp House.htm
......| ......| SEFAN 2008-12-20_01 EVENTS (2) LONDON SUSSEX.htm
......| ......| SEFAN 2008-12-29_01 EVENT January February and March 2009 at Cecil Sharp House. (EFDSS).htm
......| ......| SEFAN 2009-01-05_02 EVENT (English Folk Dance and Song Society) Fire Feasts and Frolics An Exhibition by Doc Rowe.htm
......| Scotland
......| Suffolk
......| Surrey
......| ......| SEFAN 2008-12-05_02 EVENTS (2) Electric Voices (SURREY) Faversham FC (KENT).htm
......| Sussex
......| ......| 2008-11-29 - TWELVE ITEMS OF FOLK MUSIC NEWS FROM SUSSEX FOR DECEMBER.txt
......| ......| 2008-11-30 - The Copper Family (Sat 6th December) - approaching sell-out.htm
......| ......| 2008-12-08 - London Community Gospel Choir (Sunday 14th December) - approaching sell-out.htm
......| ......| 2008-12-09 - Acoustic Sussex - Dougie MacLean show tonight - change in support to Anna Tabbush.htm
......| ......| 2008-12-17 - THE RITARY GAGUENETTI TRIO - BRIGHTON AND LONDON.htm
......| ......| 2008-12-21 - Merry Christmas A Very Happy New Year from Spyboy.htm
......| ......| 2009-01-01 - THIRTEEN ITEMS OF FOLK MUSIC NEWS FROM SUSSEX FOR JANUARY.txt
......| ......| 2009-01-08 - Spyboy - January shows - Jones Kelly close to sell-out.htm
......| ......| Acoustic Sussex (Christmas) Newsletter 2008-12-22.htm
......| ......| Acoustic Sussex Newsletter 2009-01-01.htm
......| ......| Acoustic Sussex Newsletter 2008-11-19 - Folk Roots Acoustic show back on MeridianFM!.htm
......| ......| Acoustic Sussex Newsletter 2008-11-29.htm
......| ......| Acoustic Sussex Newsletter 2008-12-04 Reminder.htm
......| ......| Acoustic Sussex Newsletter 2008-12-09 Reminder.htm
......| ......| SEFAN 2008-01-02_01 EVENTS (3) Sussex.htm
......| ......| SEFAN 2008-11-19_01 Isobel Campbell + Mark Lanegan. De La Warr Pavilion. (SUSSEX).htm
......| ......| SEFAN 2008-11-20_03 EVENTS (3) incl.B'tonFBC-change of venue!.htm
......| ......| SEFAN 2008-11-27_01 EVENTS (2). Junctions Lewes Arms FC (Sussex).htm
......| ......| SEFAN 2008-12-01_01 EVENT (1) Announce (1) SUSSEX.htm
......| ......| sefan 2008-12-02_03 EVENTS (2) Sussex.htm
......| ......| SEFAN 2008-12-05_03 EVENTS Horsham (Sussex).htm
......| ......| SEFAN 2008-12-18_01 SEASONS EVENTS (3 posts) Sussex..htm
......| ......| SEFAN 2008-12-29_02 EVENTS (2) Folk Clubs new homes and programmes. Brighton Lewes.htm
......| ......| SEFAN 2008-12-31_01 EVENTS (2)Sussex. Brighton Acoustic (Jan 05) Lewes Workshop (March).htm
......| ......| SEFAN 2008-12-31_02 EVENTS concerning Mummers Morris Apple Howling and Wassails.htm
......| UK National
......| ......| 2009-01-05 - Off The Tracks Festivals - Tickets onsale Now ....htm
......| ......| SEFAN 2009-01-05_01 EVENTS (3). Sussex Surrey Oxon..htm
......| ......| SEFAN 2009-01-08_01 EVENT (2) The last two Junctions concerts. Dancing in region..htm
......| World
Sessions
......| 2008-12-15 - (SCoFFnews) Lewes Arms Folk Club moving to Elephant Castle in January.htm
......| 2008-12-15 - (SCoFFnews) Lewes Favourites practice sessions change time place in 2009.htm
......| A plea for new players at traditional sessions - particularly younger players.html
......| Broadstairs woodshed session - Wrotham Arms - 2007-11-23.htm
......| Celtic
......| English
......| ......| Doddington Music Session.htm
......| ......| SEFAN_2007-11-27_02.ANOUNCE. Lewes Favourites sessions 2008 supplement books.htm
......| European
......| Jazz
......| ......| Hot Club Jazz - session - at St Julians Sevenoaks.htm
......| Mixed
......| ......| 2008-10-19 - Plough & Harrow - Session is on tomorrow (20th Oct).htm
......| ......| 2008-12-13 - Tilmanstone session - this monday 15th Dec.htm
......| ......| 2008-12-14 - BJ post-Christmas session 8pm 28th Dec 2008.txt
......| ......| King Head Hythe session.txt
......| ......| Woodshed session - Tune + song list .htm
......| Monthly Session list.html
......| Nick + Mick's session.htm
......| What tunes do they play at the different sessions.txt
Sing-Arounds
......| Monthly Sing-Around list.txt
......| Tenterden Folk Club at The Woolpack.htm
Tours + Newsletters
......| 2008-12-04 - Toss - Irish music songs and tap dance.htm
......| 2008-12-19 - FLOOK NEWS - disbanding.htm
......| 2008-12-19 - Rachel Harrington Tour 2009.htm
Venues
......| Anchor Inn - Littlebourne
......| ......| 2008-10-08 - Autumn Gig List - 2008.txt
......| Astor Theatre
......| Barge - Gillingham
......| ......| 2008-11-25 - Monthly Gig List (December 2008).txt
......| ......| 2008-12-26 - Monthly Gig List (January 2009).txt
......| Barnaby Rudge - Broadstairs
......| ......| 2008-10-02 - The Barnaby Rudge 2008.txt
......| Beer Cart Arms
......| Bottleneck Blues
......| ......| 2008-11-08 - Bottleneck Blues Club - 25th November 2008.htm
......| ......| 2008-12-03 - Bottleneck Blues Club.htm
......| Caseys
......| Central Theatre - Chatham
......| ......| 2009-01-05 - Have you heard the latest at The Central Theatre.htm
......| Cullins Yard
......| Dove at Dargate
......| Folk in the Barn
......| ......| 2008-11-23 - FiTB - reviews 'n' news.txt
......| ......| 2008-12-06 - Christmas Spirit - Bah Humbug!.txt
......| ......| 2008-12-11 - Happy Christmas!.txt
......| ......| Folk in the Barn - Contacts for tickets.txt
......| Folkus - Medway
......| ......| 2008-10-02 - Medway Folkus 2008.txt
......| Gulbenkian
......| ......| 2008-11-14 - Christmas Parties at the Gulbenkian.htm
......| ......| 2008-11-26 - Mari Wilson - Gulbenkian - 13th Dec 2008.htm
......| ......| 2008-11-27 - Albion Band - Gulbenkian - 22nd Dec 2008.htm
......| ......| 2008-12-02 - New-Gulbenkian Christmas Podcast.htm
......| ......| 2008-12-16 - Spring Season - Gulbenkian.htm
......| ......| 2008-12-19 - Christmas at the Gulbenkian.htm
......| ......| 2008-12-23 - Open Mic - Gulbenkian.htm
......| ......| 2009-01-07 - Paul Jones Digby Fairweather - Gulbenkian.htm
......| ......| Canterbury Acoustic.txt
......| Hook and Hatchet - Hucking
......| HorseBridge - Whitstable
......| Man of Kent Alehouse - Rochester
......| ......| 2008-10-02 - The Man of Kent 2008.txt
......| New Venues
......| Orange Street
......| ......| 2008-12-03 - Global Boutique Event at Orange Street Music Club December 4th!.htm
......| ......| 2008-12-08 - TWISTED FOLK MAILOUT-WINTER 2008.htm
......| ......| 2008-12-31 - Happy New Year! - Robb Johnson, Drhone, Relig-Oran.htm
......| ......| SEFAN 2008-11-20_01 Global Boutique Event at Orange Street Music Club (KENT).htm
......| Pizza Express
......| Soul Cafe Maistone
......| Three Mariners at Oare
......| Trinity Theatre
......| Wrotham Arms - Broadstairs
......| ......| 2008-12-10 - Wrotham Arms gig list - Dec 2008 to Feb 2009.txt
......| ......| Wrotham Arms - Oct Nov 2008.txt
......| Yew Tree
......| ......| 2008-12-14 - The Yew Tree Barfreston.htm
Web info
......| David Hooper
......| Google
......| ......| Google Advertising.html
......| ......| Google Calendars.html
......| Group and Musician web-sites
......| ......| 2008-12-05 - Cellar Upstairs new website.txt
......| ......| 2008-12-12 - Calling all musicians and music lovers.htm
......| KentFolk How-Tos
......| ......| Having images, photos, posters and flyers in emails for the web.htm
......| ......| How to send event items for the KentFolk Calendars.html
......| ......| How to send news items for the KentFolk News pages.html
Workshops
......| EFDSS Announces Saturday Workshop Series.htm
......| Music Workshops in Medway.txt
......| SEFAN 2008-10-12_01 ANNOUNCE Paul Hutchinson accordion workshop Lewes Arms Sat 6 Dec.htm
......| Tommy Peoples in 2009.htm


---